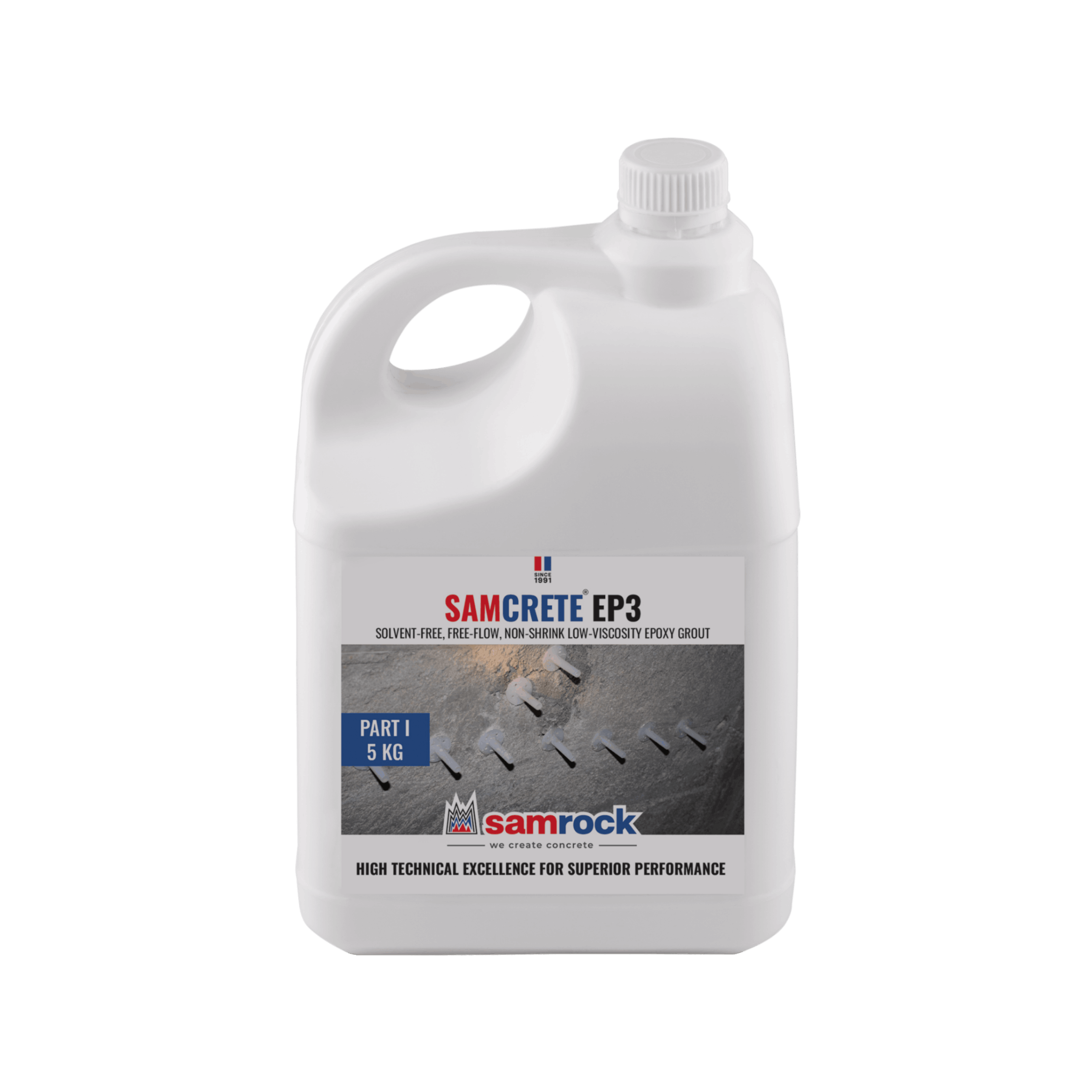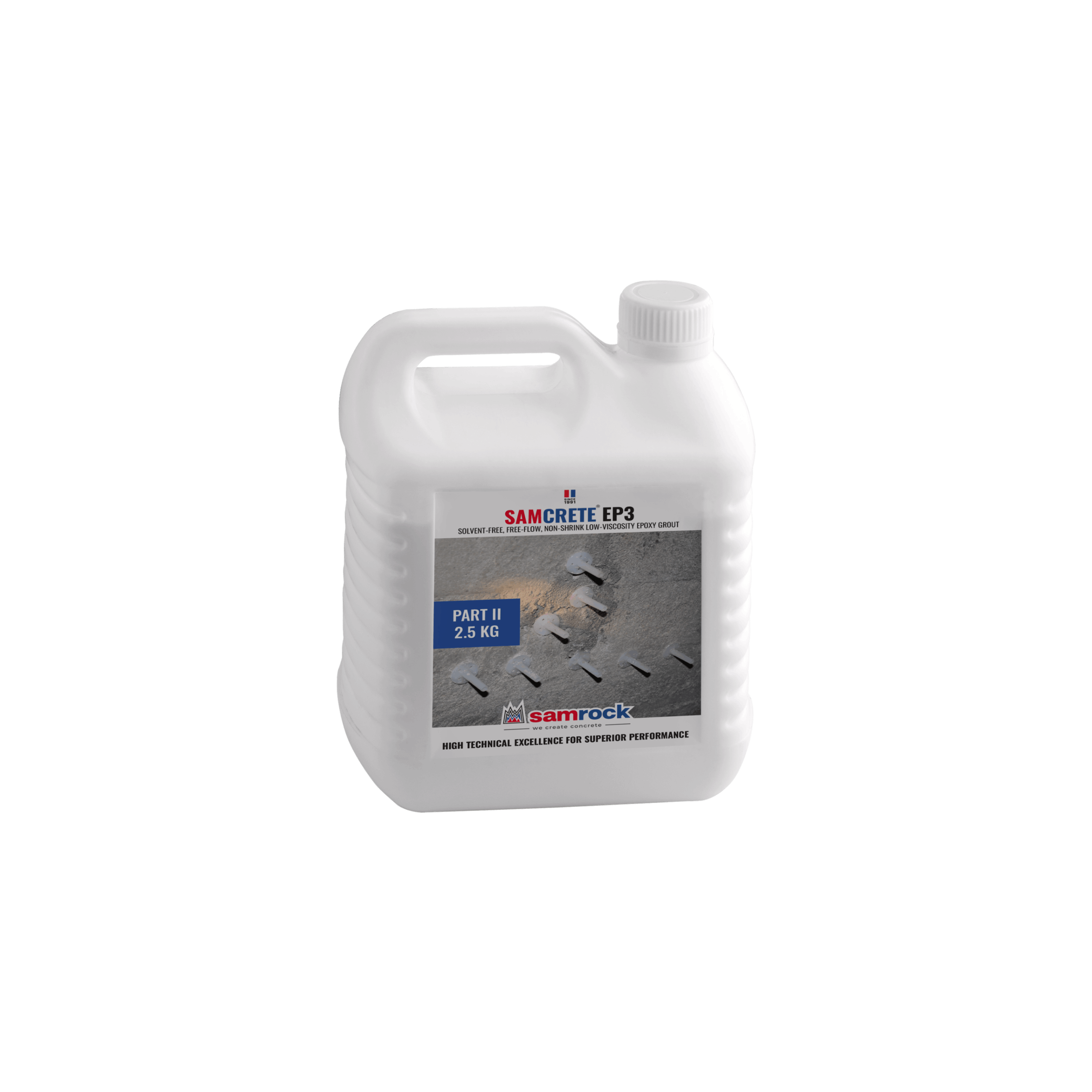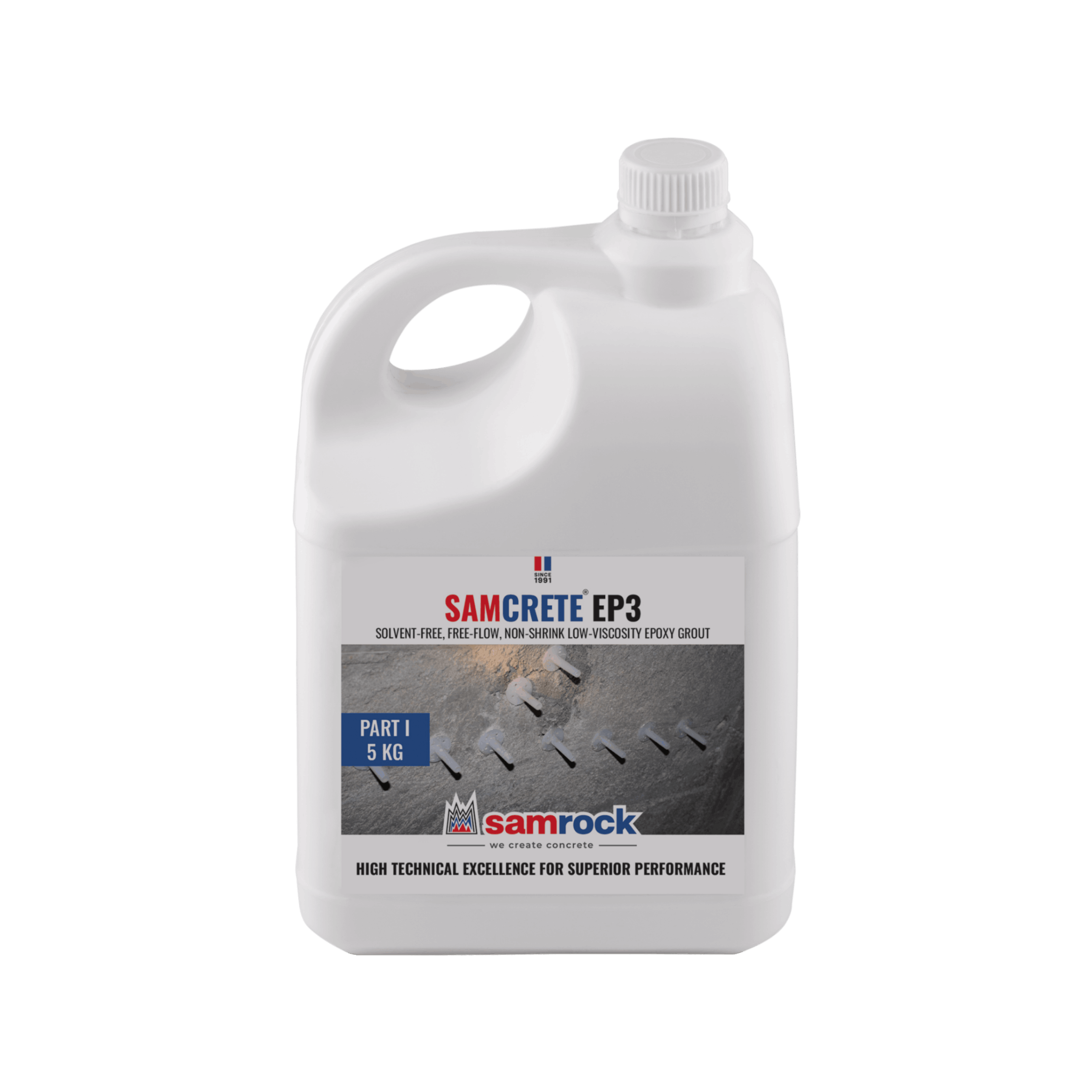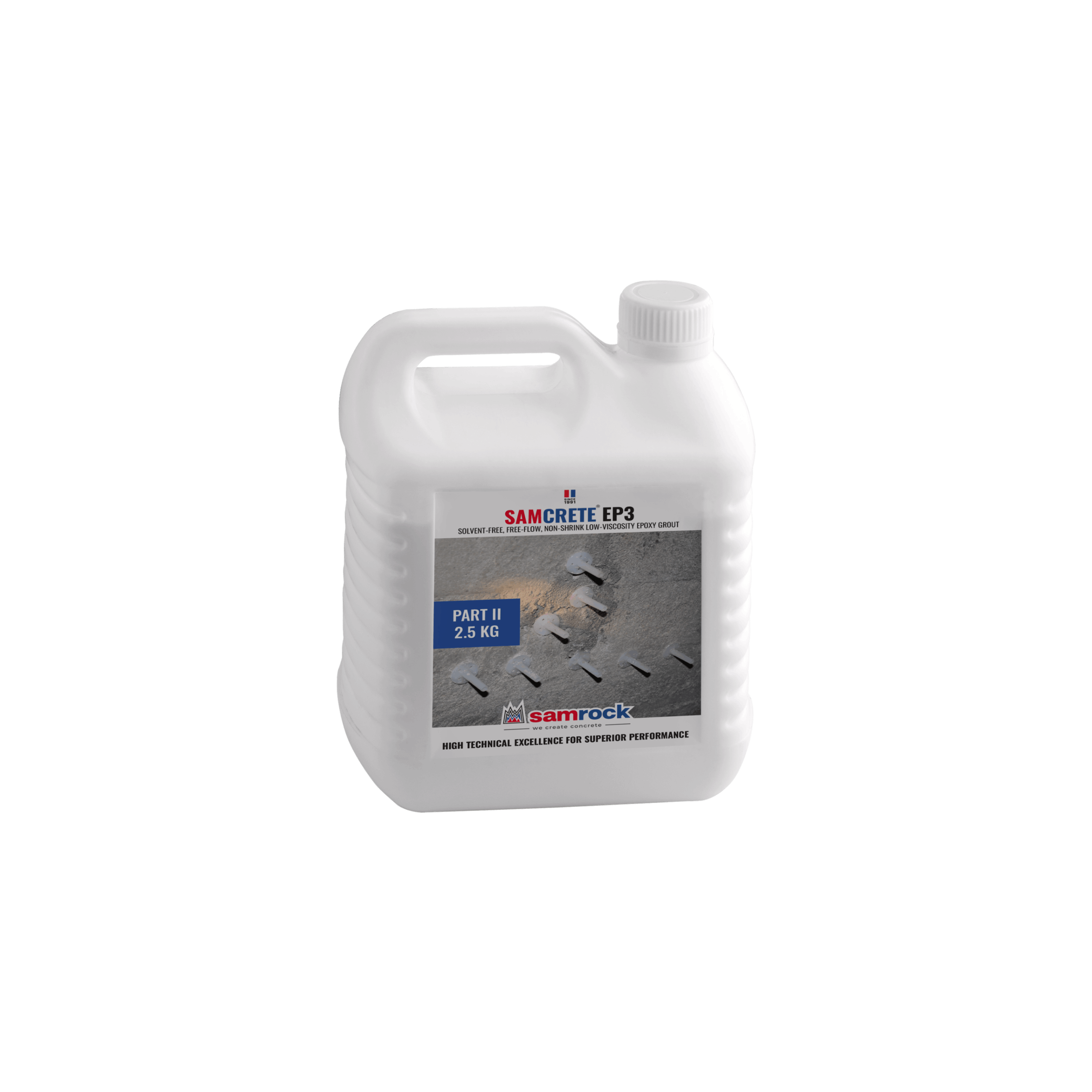 3_Jerrycan_Front_5 kg-resized
4_Jerrycan_Back_5 kg-resized
1_Jerrycan_2.5 Kg_Front-resized
2_Jerrycan_2.5 Kg_Back-resized
Structural Repair Product
SAMCRETE® EP3 is a solvent-free, free-flow, non-shrink, low-viscosity Epoxy-based Injection Grout available in two packs (base and hardener).
Packing
7.5 kg (Part I: 5.0 kg + Part II: 2.5 kg)
Form
Part I : Liquid
Part II : Liquid
Base
Epoxy-resin
Colour
Pale colourless liquid
Safety
Wear goggles and gloves
Surface preparation
• Clean the substrate surface of oil, grease, laitence, adherent material etc.
• Wash all substrate with clean water and get it dried..
• For under plate grouting the gap between the perimeter form work and the plate edge should not exceed 15 mm on the pouring side and 50 mm on the opposite side.
Mix preparation
• Pour entire contents of hardener into base container.
• Mix until it becomes homogenous.
• Place the mix into force action mixer.
For injection grouting
• Make 'V' shape grove by a mechanical saw. Insert 12 mm diameter injection nipples at 100mm c/c and 30 mm to 40 mm deep, or otherwise recommended by engineer incharge, along the crack line and plug it with SAMSEAL EP.
• Inject by means of suitable gun or pump at a pressure of 6 to 7 kg/sq m. and increase pressure gradually.
• Plug the nipples as soon as injection of grouting is completed.
• High flexural strength and adhesion substrate ensures excellent performance under dynamic operating conditions.
• Recommended for rapid installation and strength gain.
• Minimum creep enables early commissioning of plant.
•Useful where mechanical properties resistant to a wide range of chemicals, acids and alkalies are required.
• Resistant to water and frost.
• Support beneath crane and transporter rails
• High speed turbines and centrifuges, drop forges etc
• Reciprocating machinery and other operating or test equipment subject to heavy dynamic or mobile loads
• Injection grouting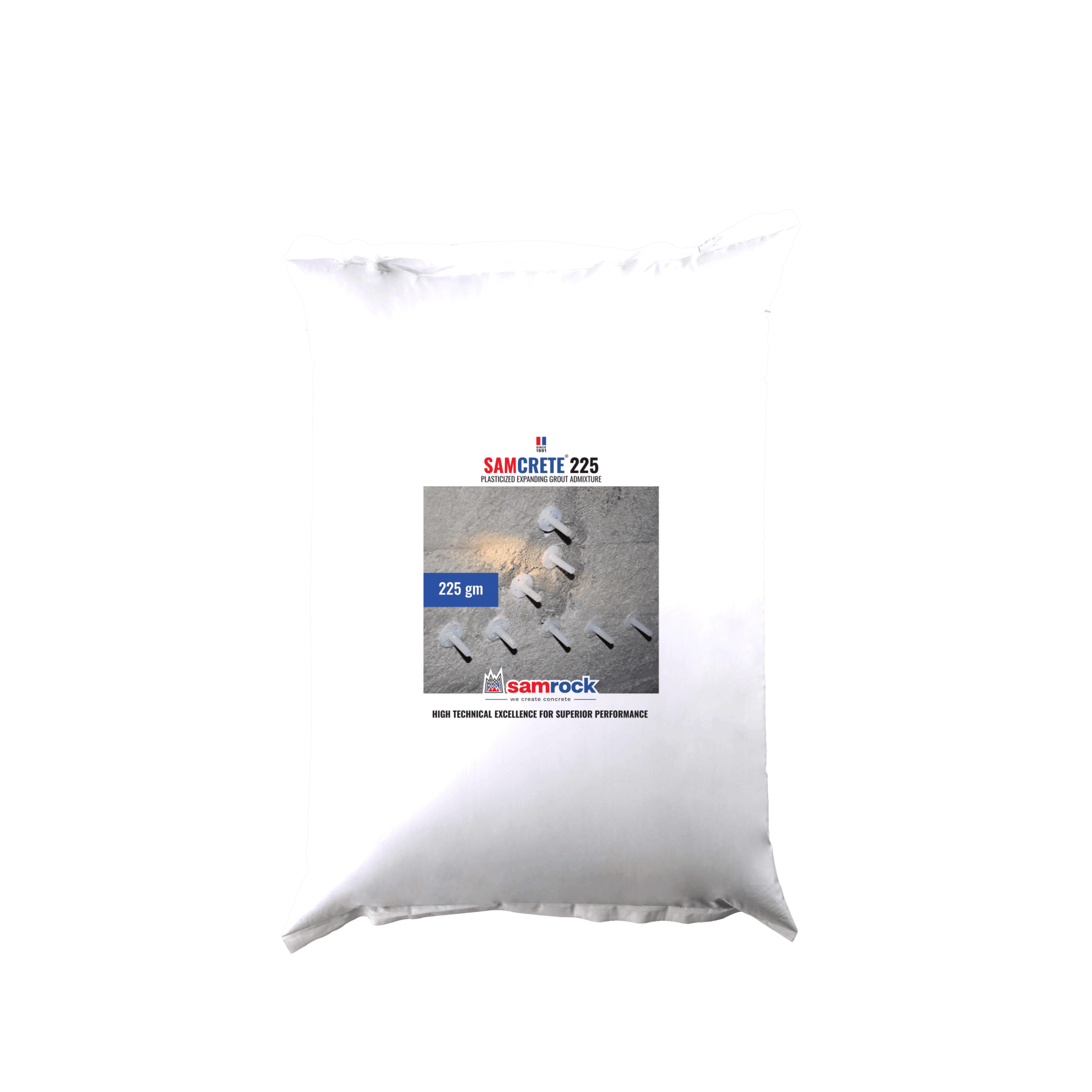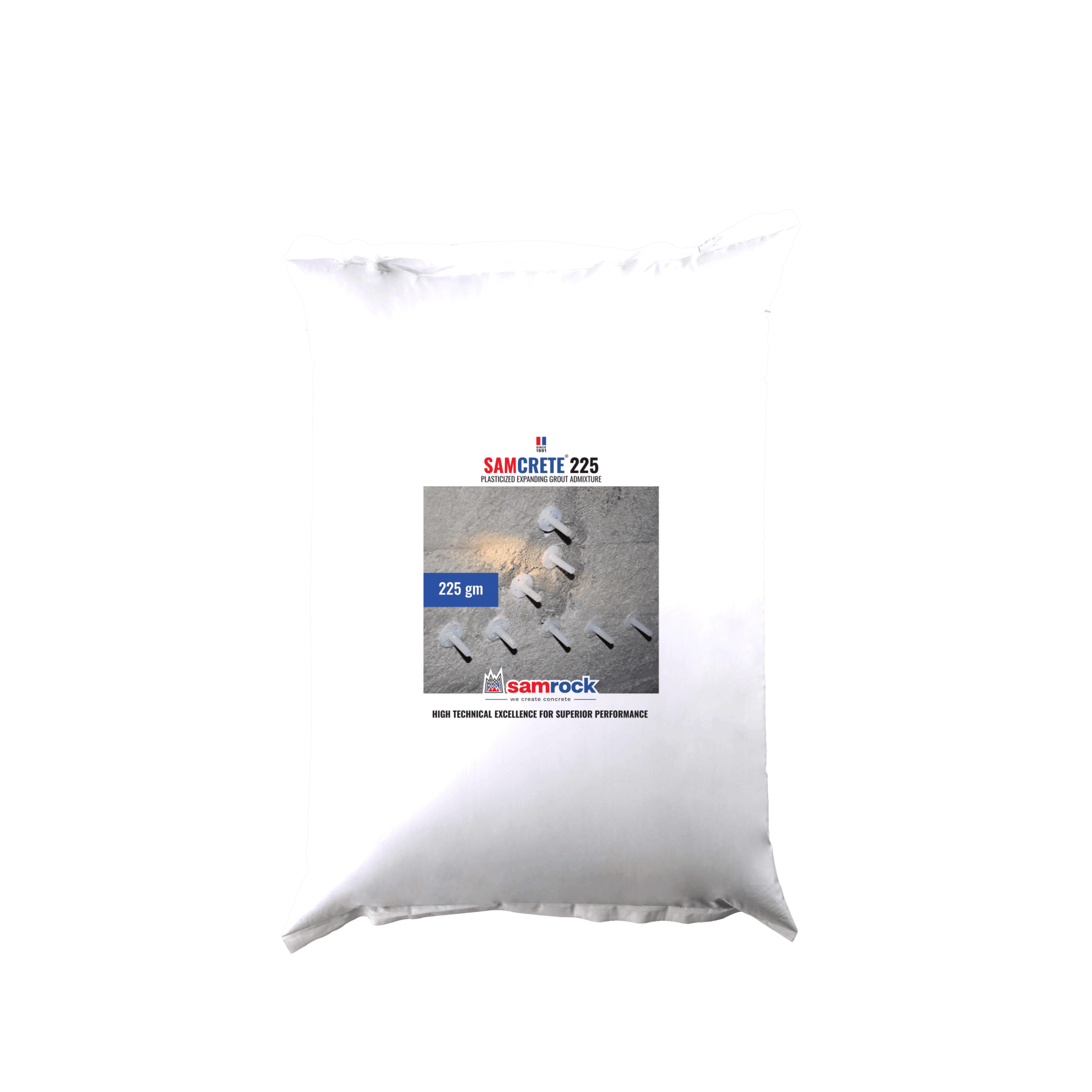 1_Pouch_225 gm_Front-resized
2_Pouch_225 gm_Back-resized
Structural Repair Product
SAMCRETE® 225 is a plasticized grouting admixture.
Packing
225-gm
Form
Powder
Unsaturated expansion
1 – 4%
Base
Cement
Safety
Wear protective gloves
Grout Mixes
• Take exact amount of specified water in a power operated grout mixer.
• Whilst mixing continuously, slowly add neat cement mix to the water. At the same time sprinkle SAMCRETE® 225.
• Mix complete grout for 3-5 minutes until thorough dispersion is achieved.
• Before use, pass it through a 5mm sieve to remove lumps.
Mortar or Concrete Filling Mixes
• Place water and sand in a mixer.
• Whilst mixing continuously, add SAMCRETE® 225 slowly.
• After mixing thoroughly, add cement and continue mixing for 3-5 minutes.
• SAMCRETE® 225 has expanding properties and ensures permanent contact and high bond to entire grouted surfaces.
• Plasticizing effect facilitates placement and injection.
• Assists in production of grouts free from water pockets and bleeding.
• Resistant to frost and damages due to fire.
• Possesses no metallic iron content to corrode and cause staining or deterioration due to rust
expansion in the grout..
• Bed grouting, duct grouting, non-shrink in-filling and jointing
• Pressure grouting of tunnels and shaft lining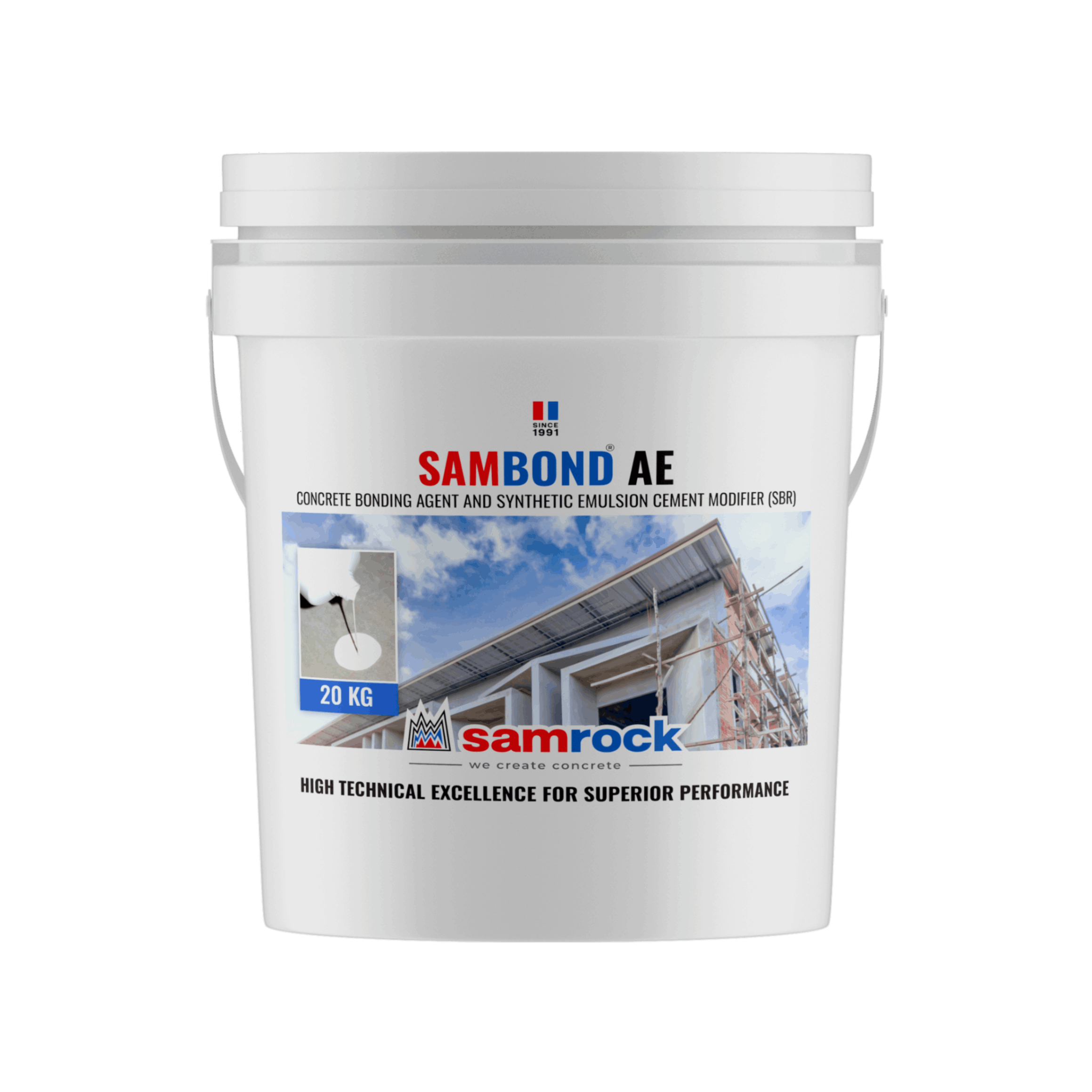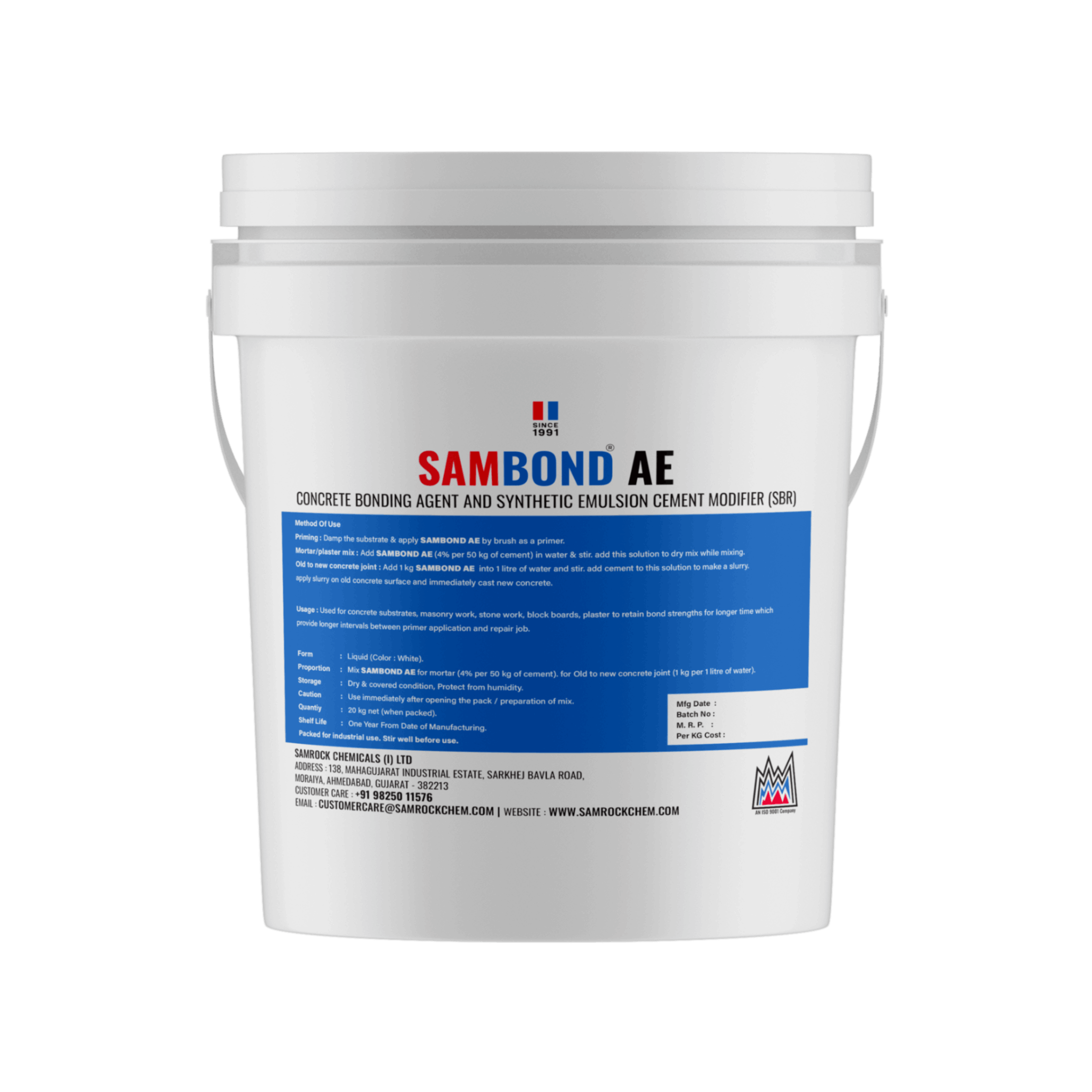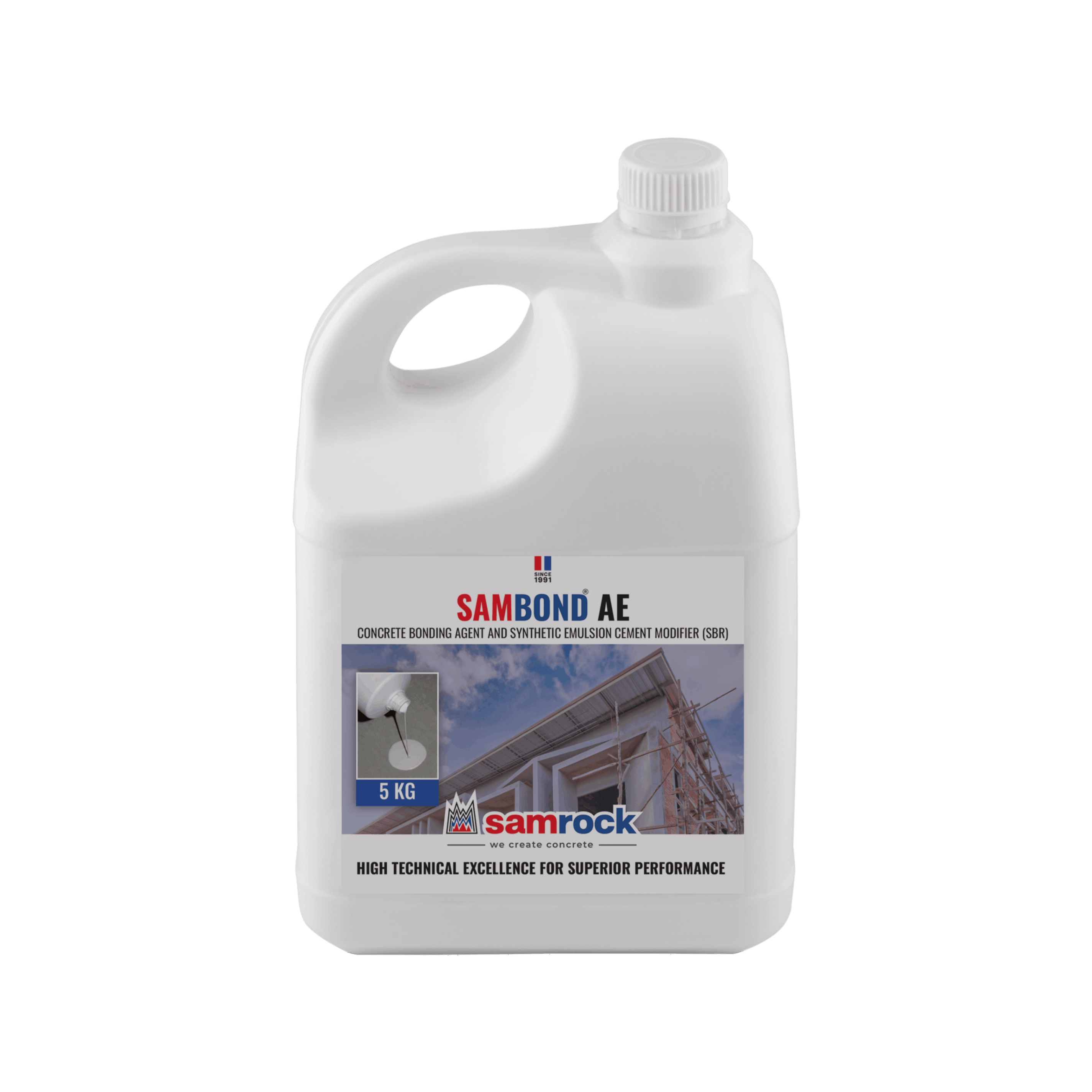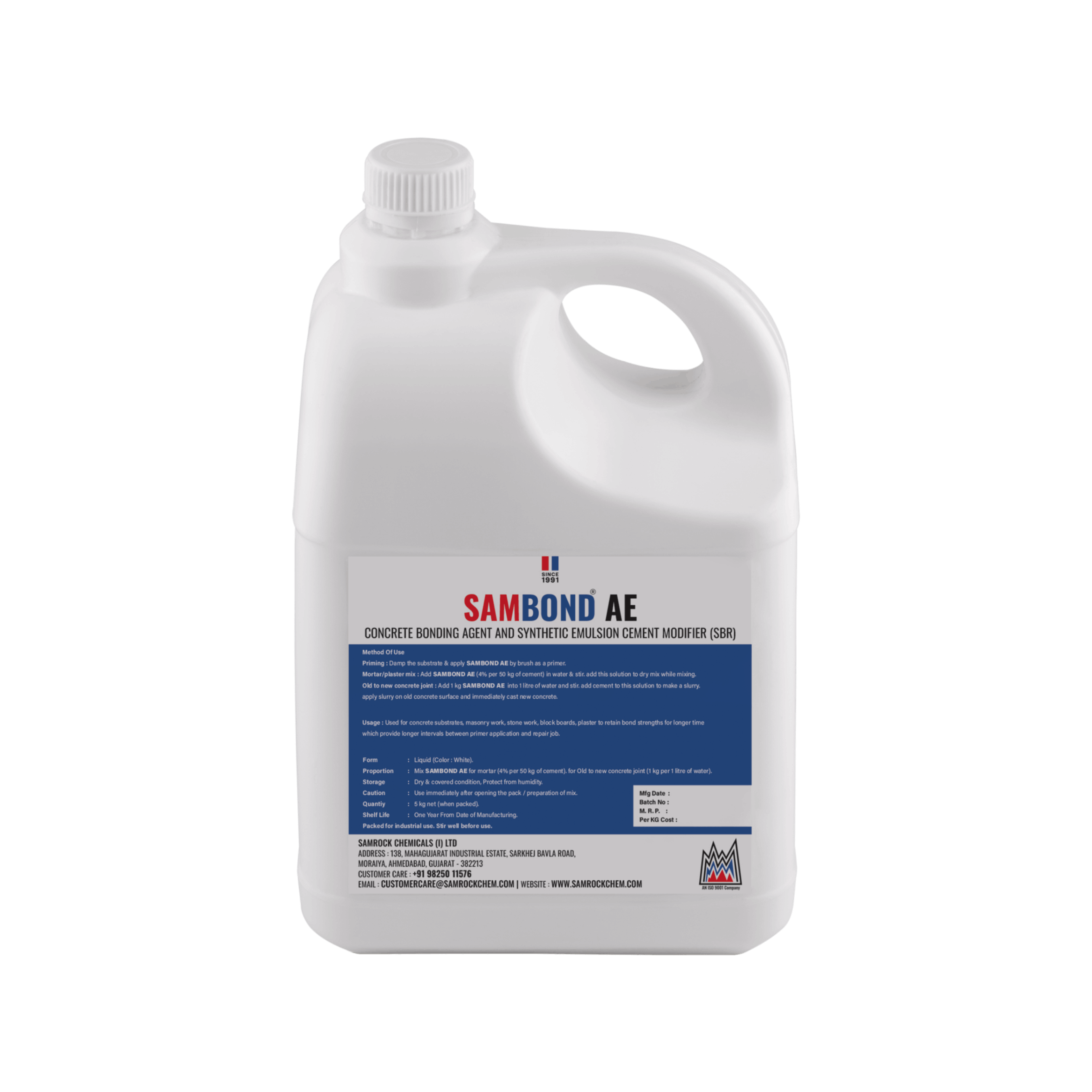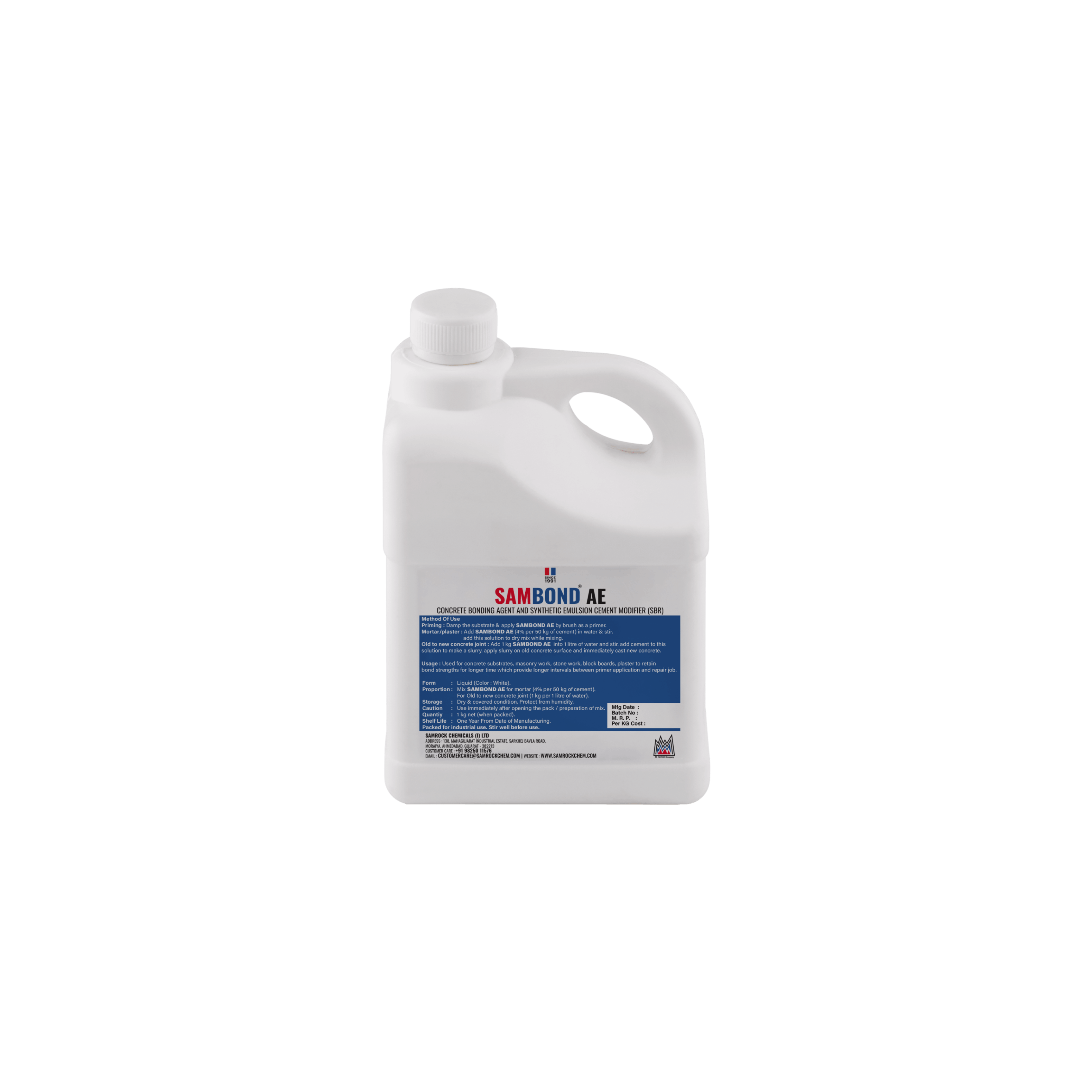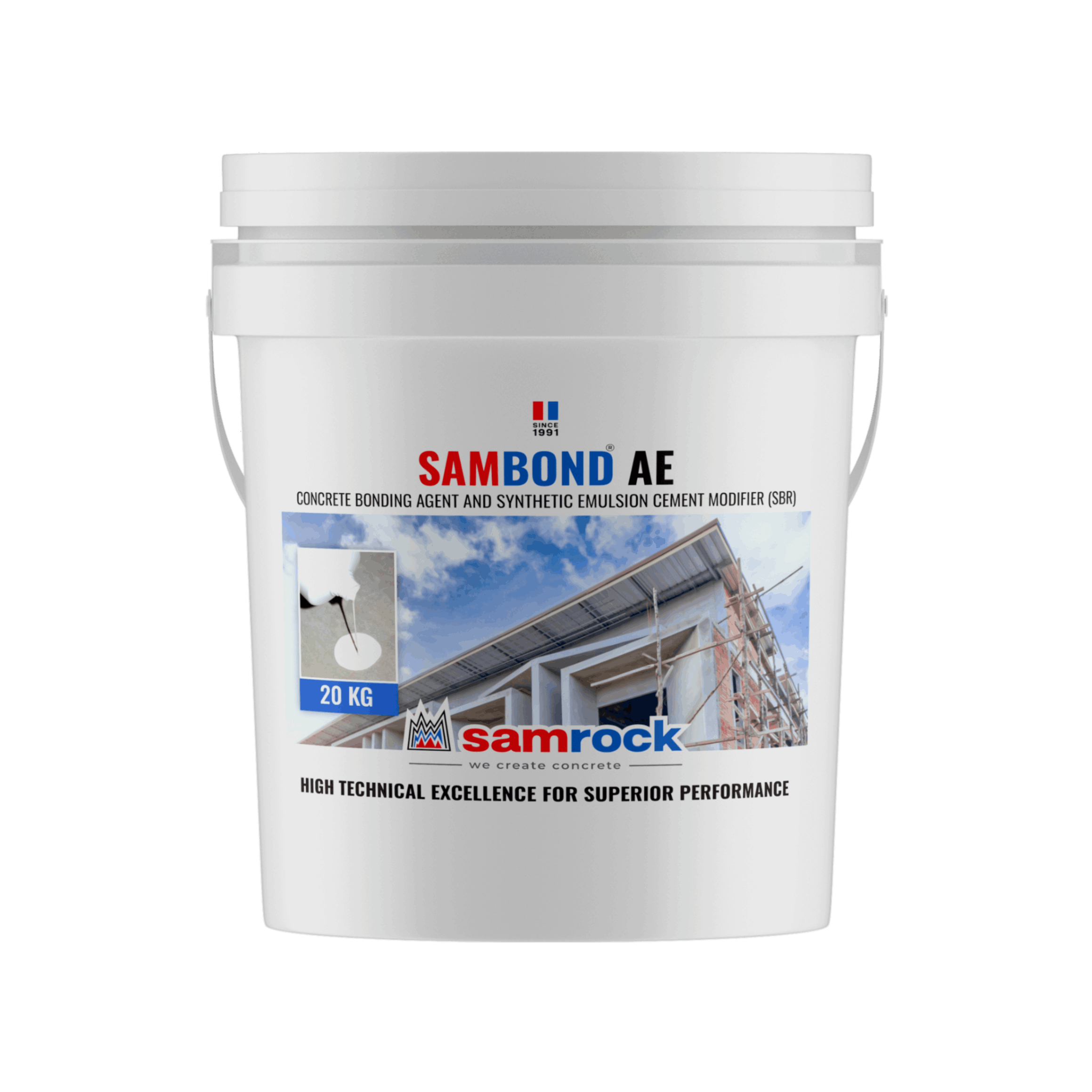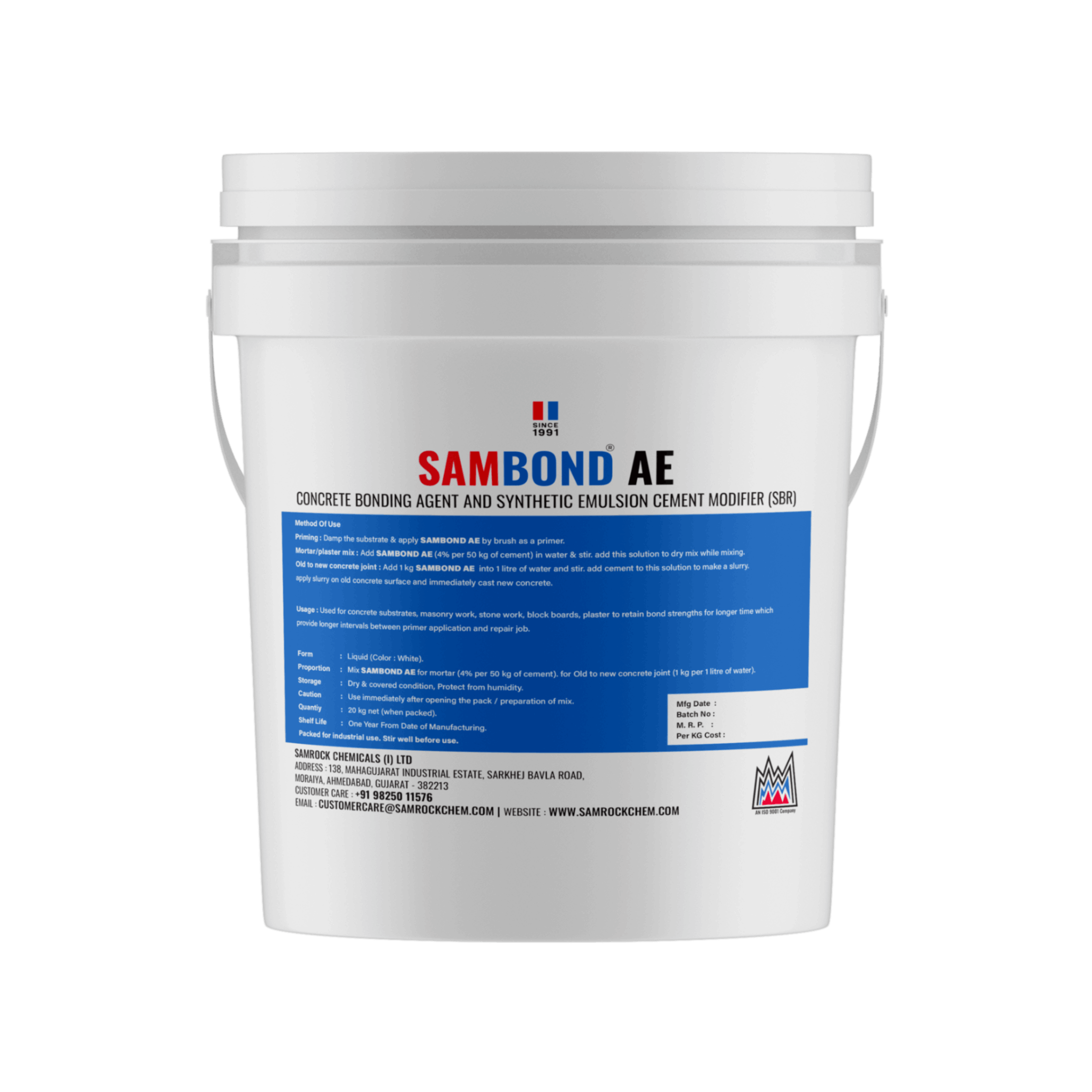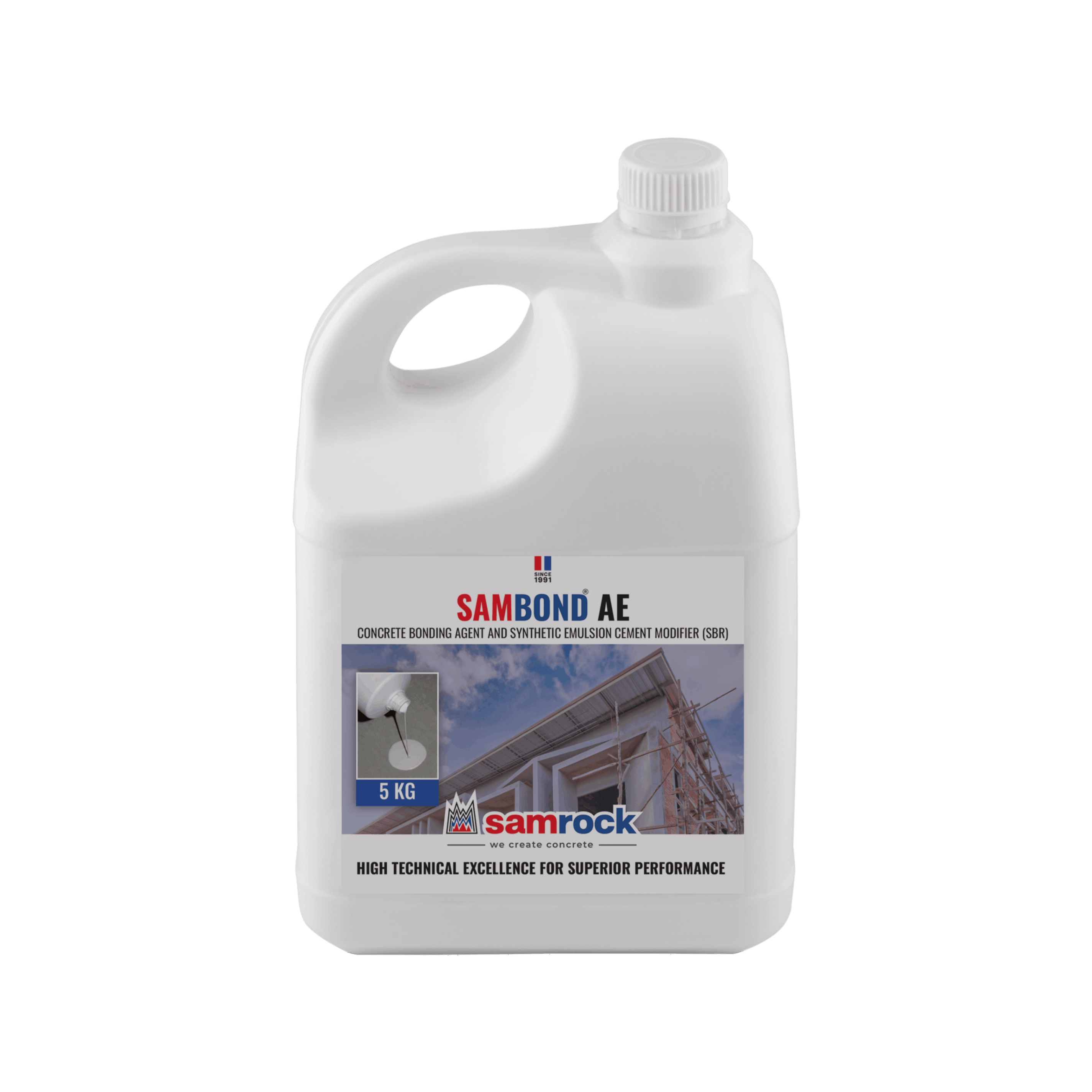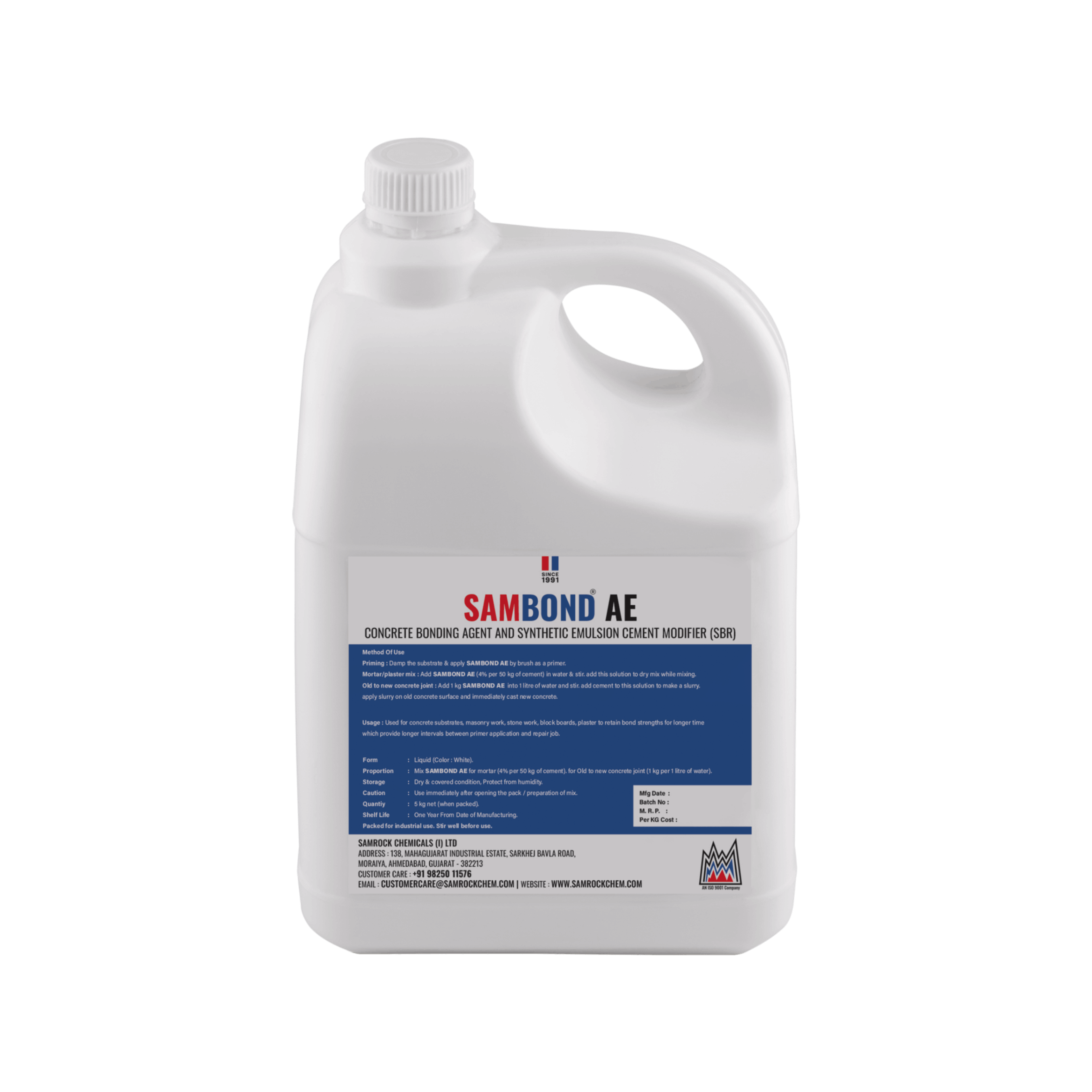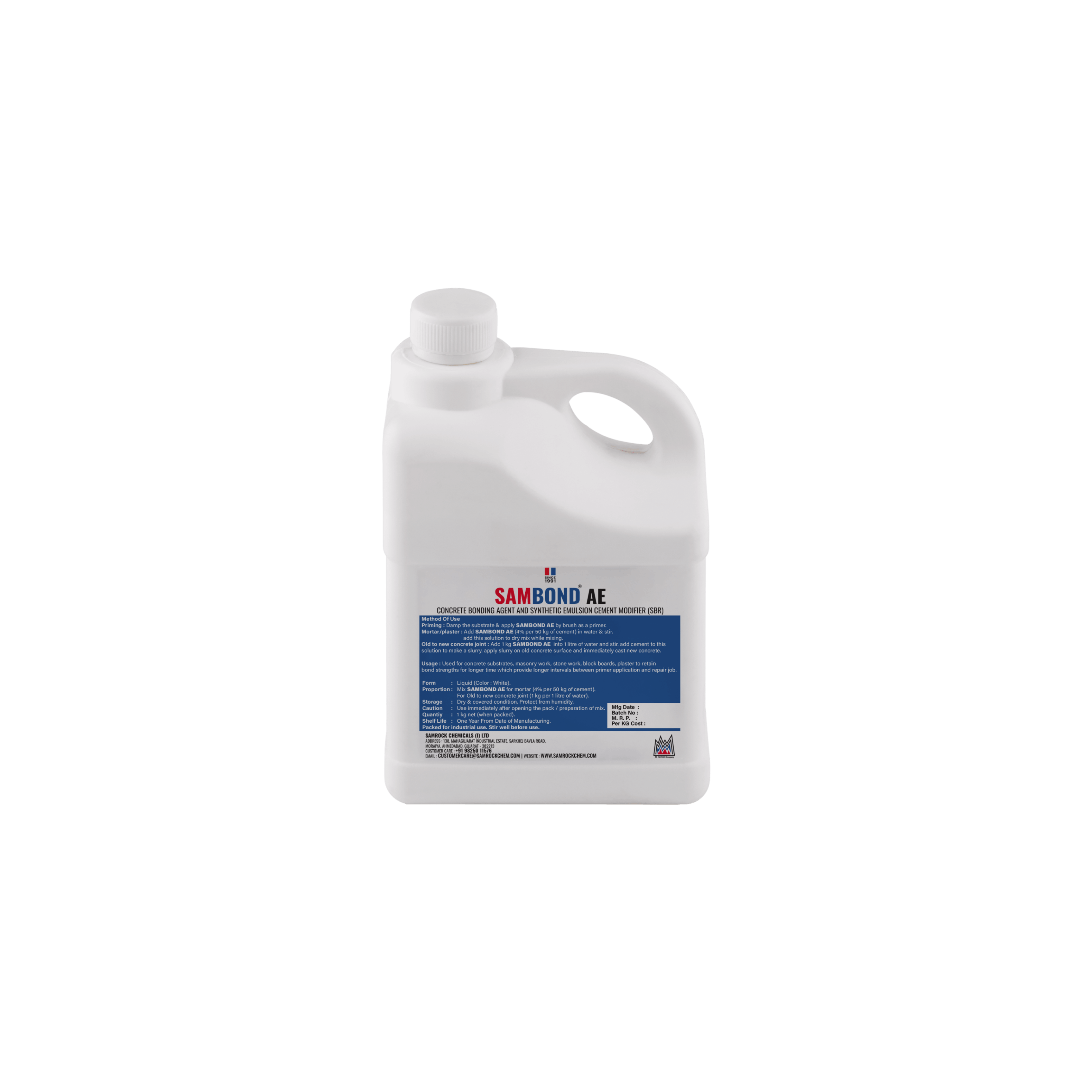 05 SAMBOND AE_Bucket_Front-resized
06 SAMBOND AE_Bucket_Back-resized
03 SAMBOND AE_Jerrycan_5 Kg_Front-resized
04 SAMBOND AE_Jerrycan _5 Kg_Back-resized
01 SAMBOND AE_Jerrycan_1 Kg_Front-resized
02 SAMBOND AE_Jerrycan_1 Kg_Back-resized
Structural Repair Product
SAMBOND® AE is a powerful concrete bonding agent recommended for use as a brushable primer for cementitious repair systems. This product can also be used in mortar mixes designed for patch and repair jobs. It is also useful as old to new concrete jointing compound.
Packing
1 kg jerrycan,
5 kg jerrycan,
20 kg bucket
form
Liquid
Specific gravity
1.010 at 25°C
Color
White
Safety
Non-toxic and non-flammable
• Priming: Damp the concrete substrate and apply  SAMBOND® AE on the surface by brush. Apply repair mortar / topping while the substrate surface is still tacky.
• Directly into mortar / plaster mix: Add SAMBOND® AE (4% per 50 kg of cement) in water and stir. Slowly add water to dry-mix while mixing. Apply mortar / plaster-mix as usual.
• For old to new concrete jointing:  Add 1 kg SAMBOND® AE into 1 litre of water. Stir well. Add cement to this solution to make a cement slurry. Apply this slurry on old concrete surface and immediately cast new concrete.
• Provides excellent bond to concrete, masonry, stone-work, plaster and boards.
• Improves tensile and compressive strengths.
• Aids curing and is useful as a curing membrane.
• Reduces water loss and is good for hydration.
• Retains bond strengths for longer time thereby permitting longer intervals between primer application and repair job.
Use as a "PRIMER" for repairing of:
• Concrete substrates                    *  Masonry work
• Plaster patching and repairs       * Block boards
• Concrete construction joints       * Stone work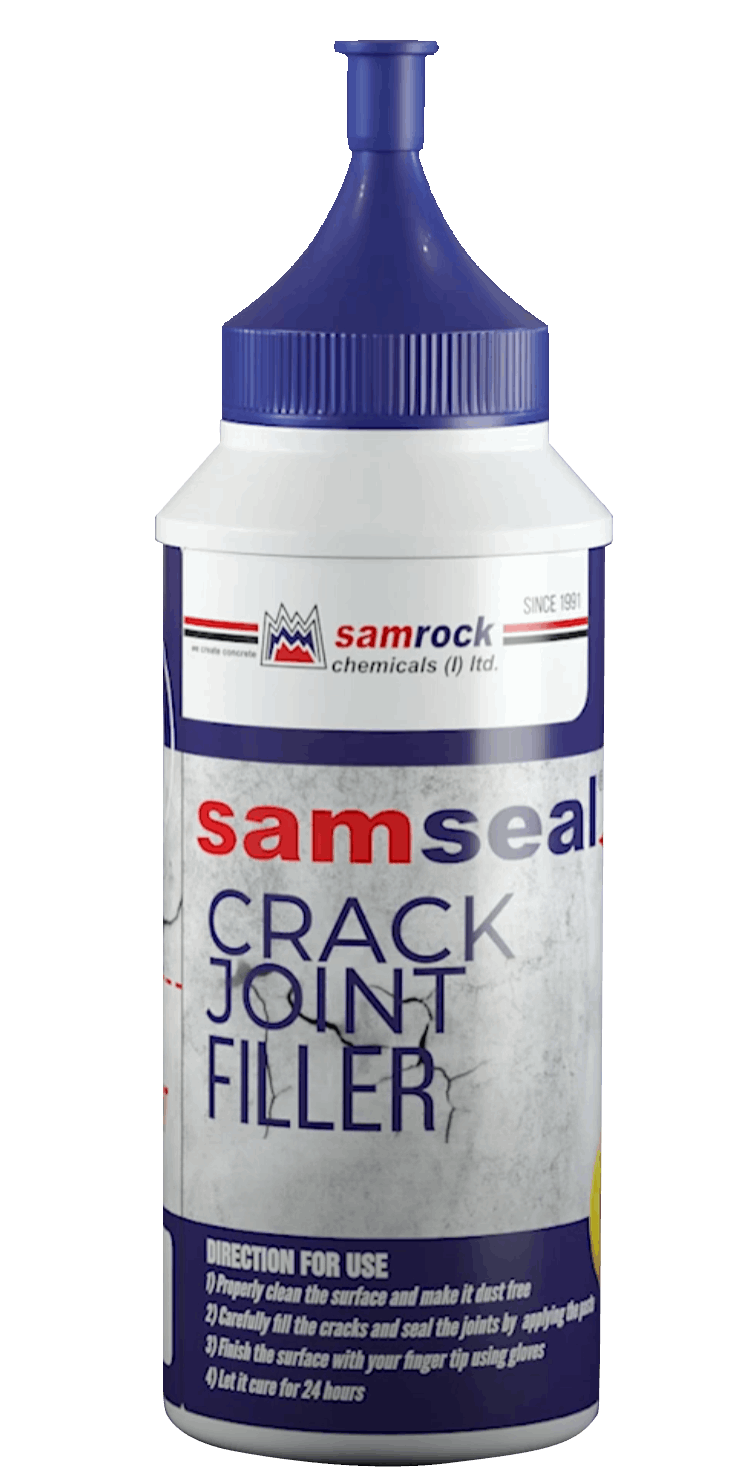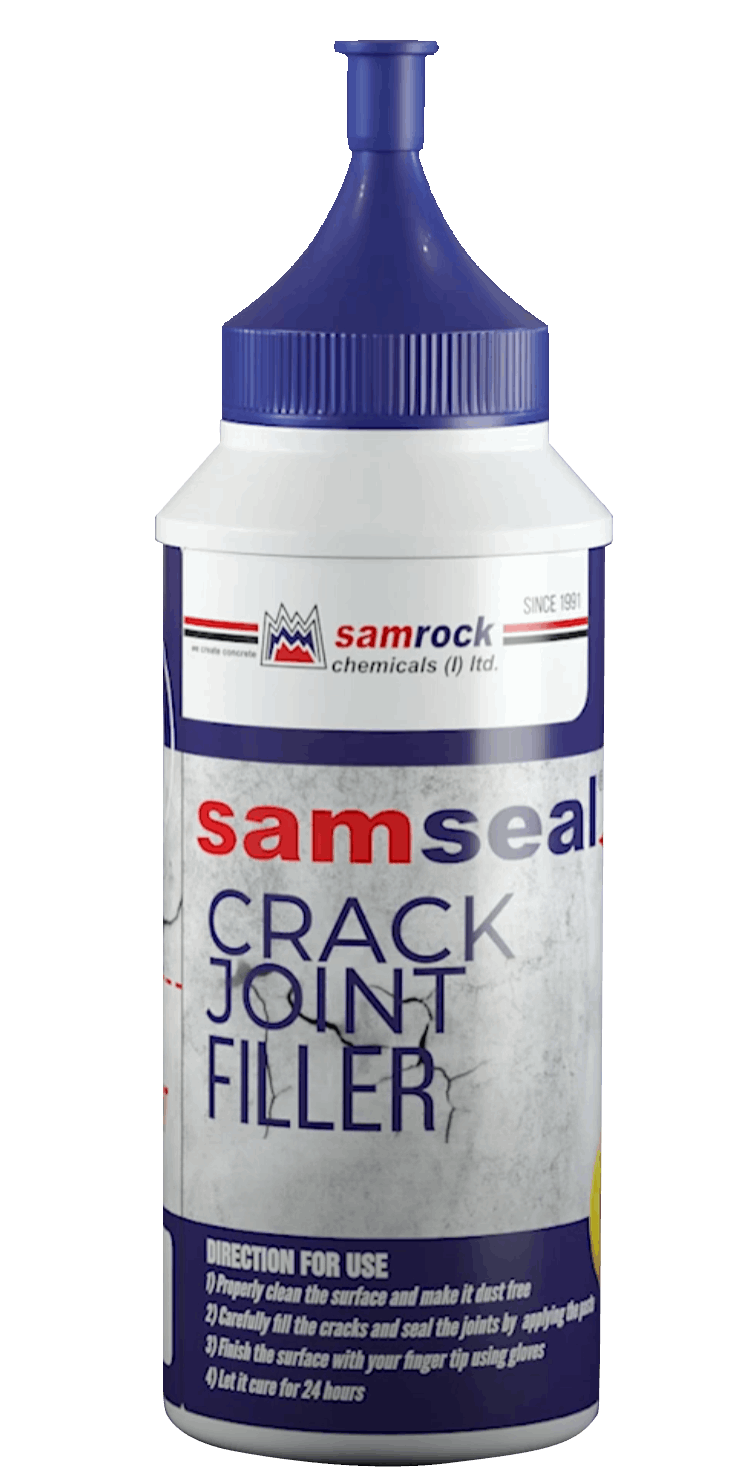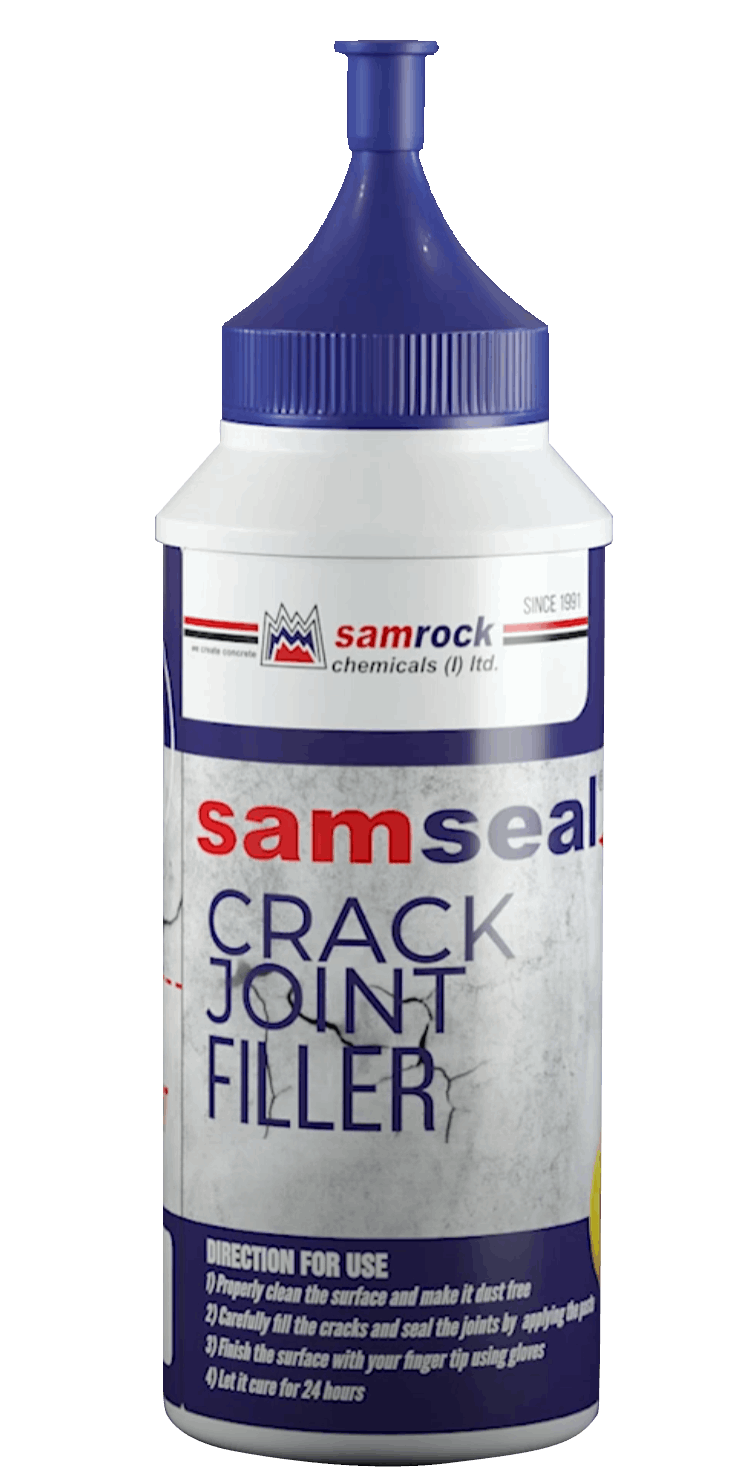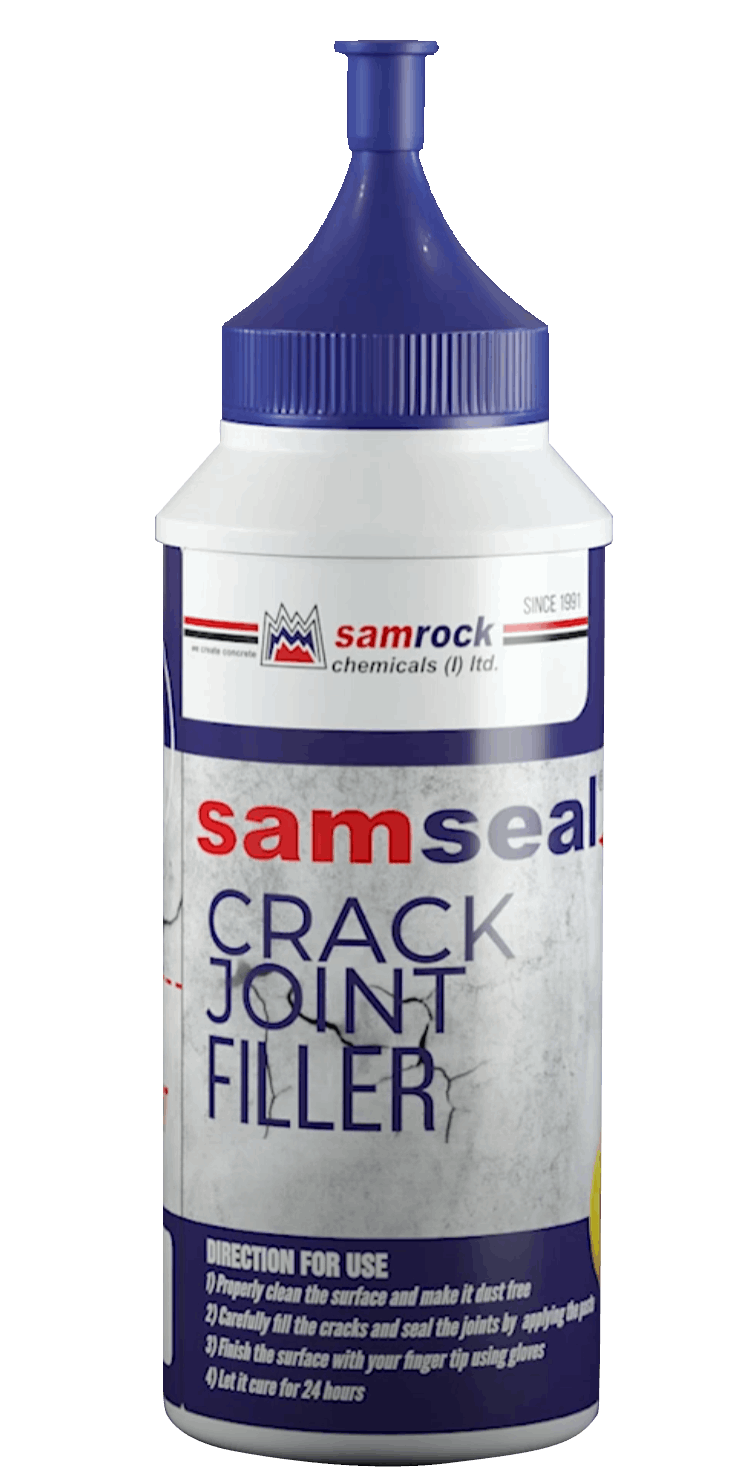 Structural Repair Product
SAMSEAL®
 is an acrylic-base, single-component product. It seals crack / gap / joint, and is suitable for repairing works.
SAMSEAL
®
also has excellent waterproofing properties.
Packing
350 gms
Form
Semi-liquid
Base
Acrylic
Color
White, Grey, Black, Brown
Safety
Non-toxic & non-flammable. Keep away from children & pets
• To be no-gun applied on dry surface
• Provides quite efficient protection to concrete.
• Impermeable to water (without pressure) (prevent penetration of water) but at the same time permeable to water vapour.
• Suppresses carbonation.
• Hinders chloride penetration.
• Resists thermal and ultra violet ageing.
• Waterproofing by treating cracks in RCC structures, joints of stones, China mosaic & tiles
• Seals core-cut gaps around drainage & pipe-fitting
• Corners of rooms making them ant & termite-proof
• Repairing cracks in POP works, plastered walls, gap / crack between wall and granite or wooden frames of doors & windows & joints of fiber or metal roof sheets.
• Sealing gaps around switchboards, washbasins, tubs, western commodes, taps and other sanitary fittings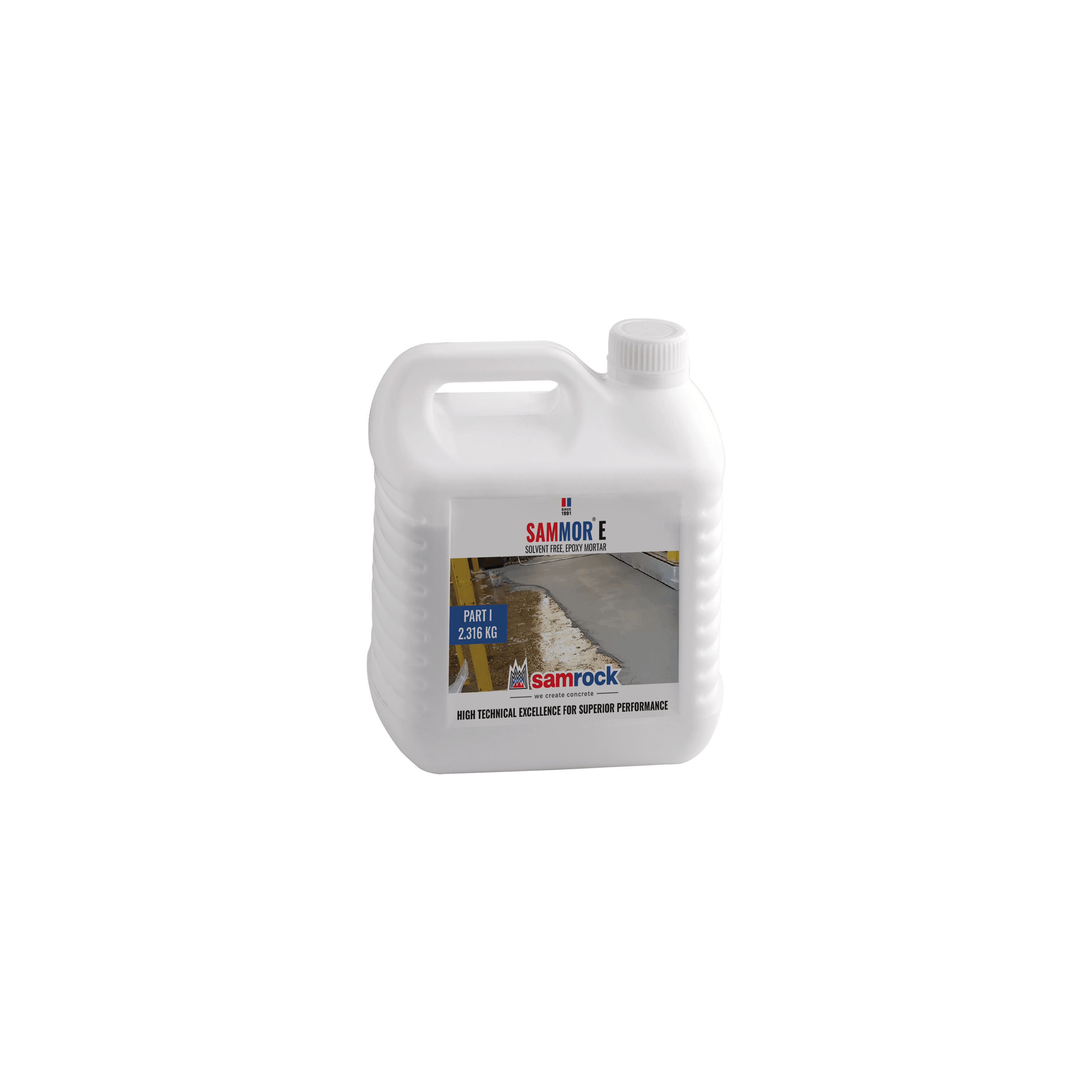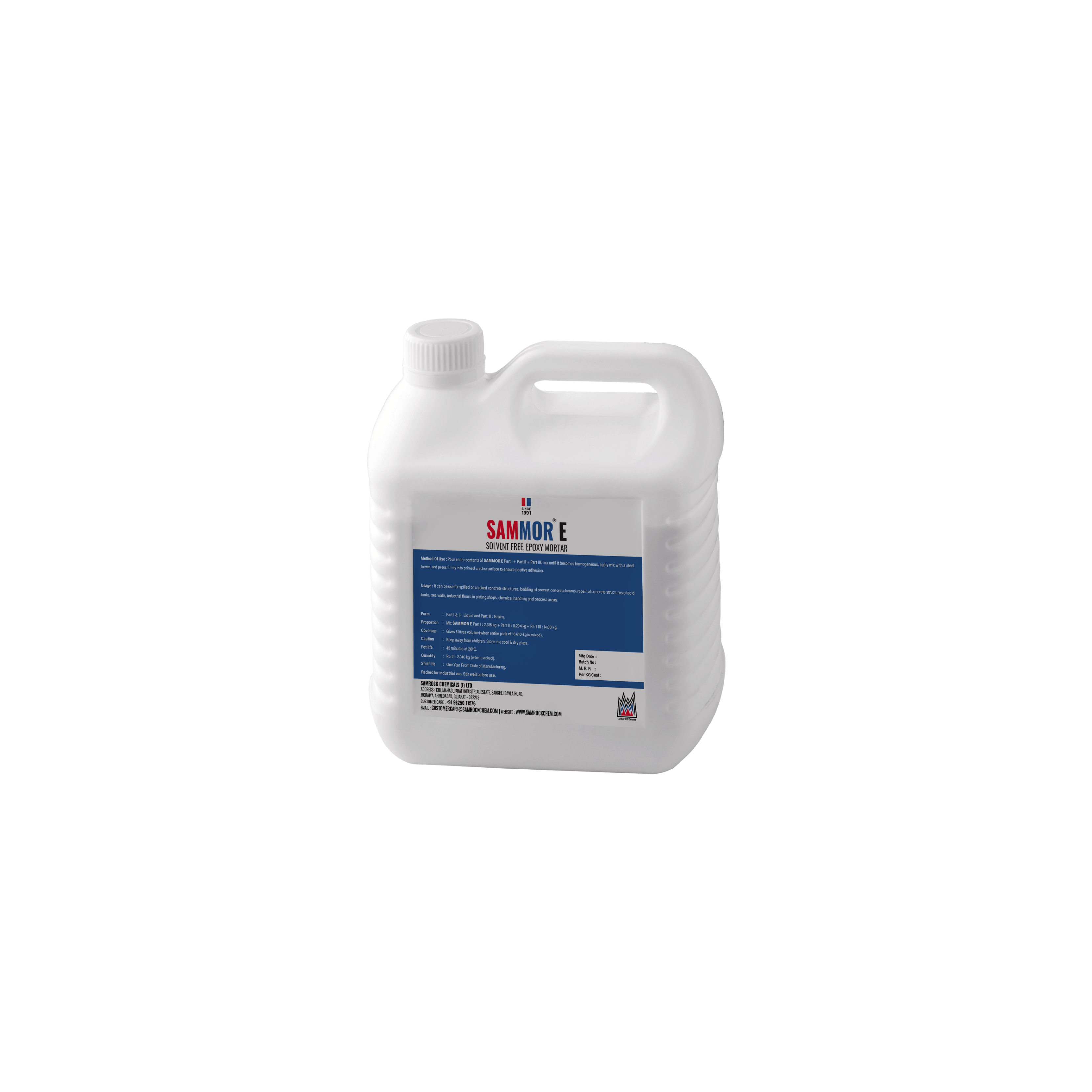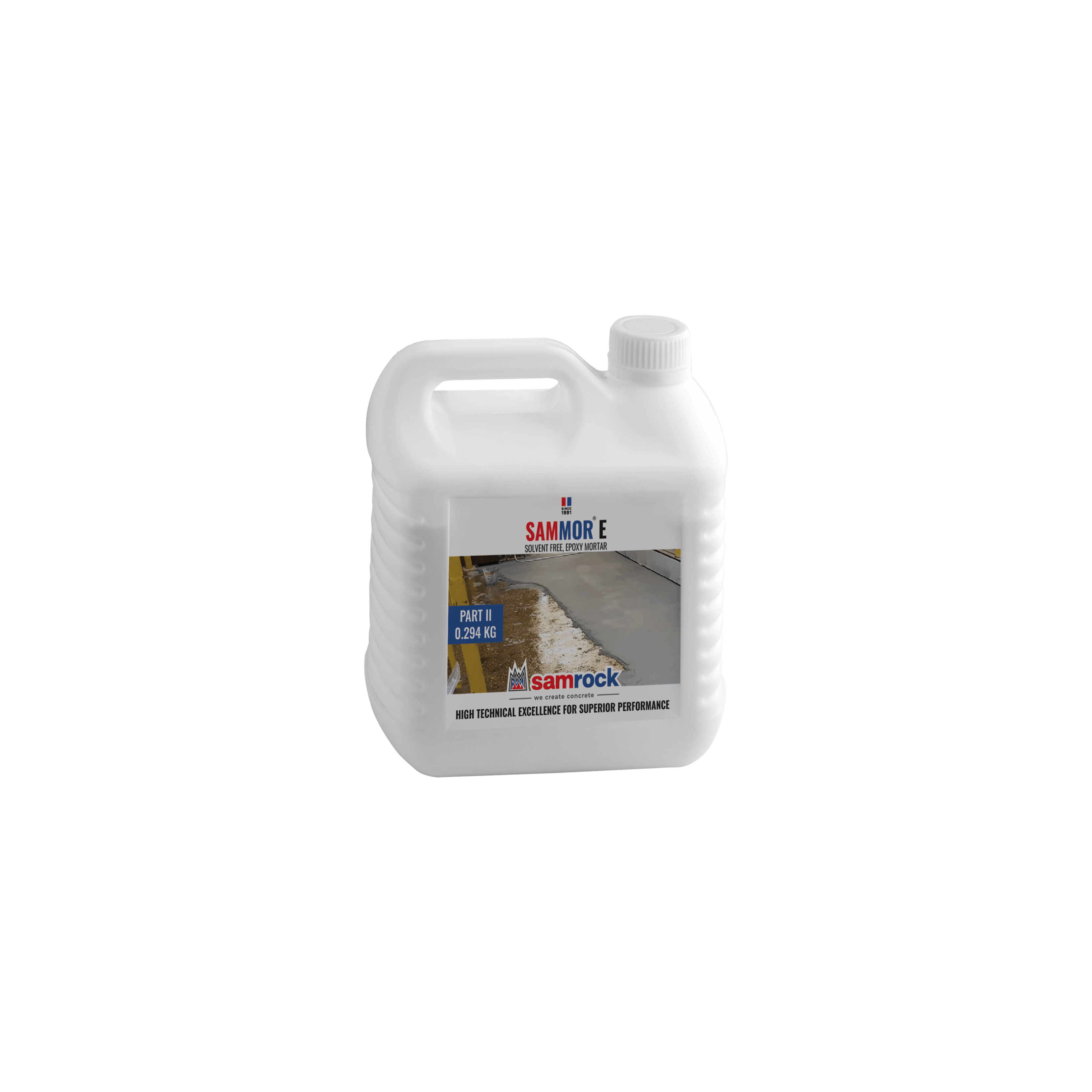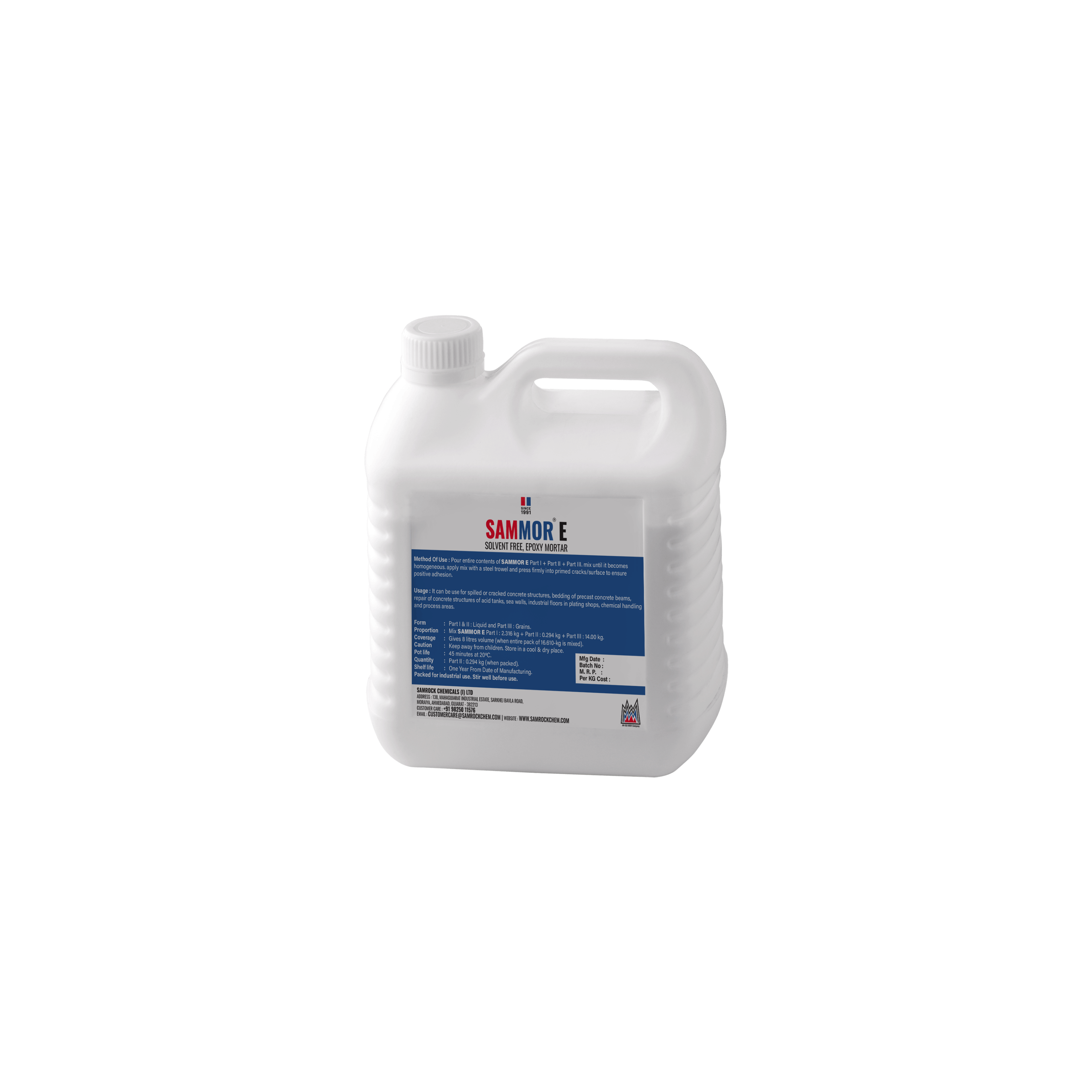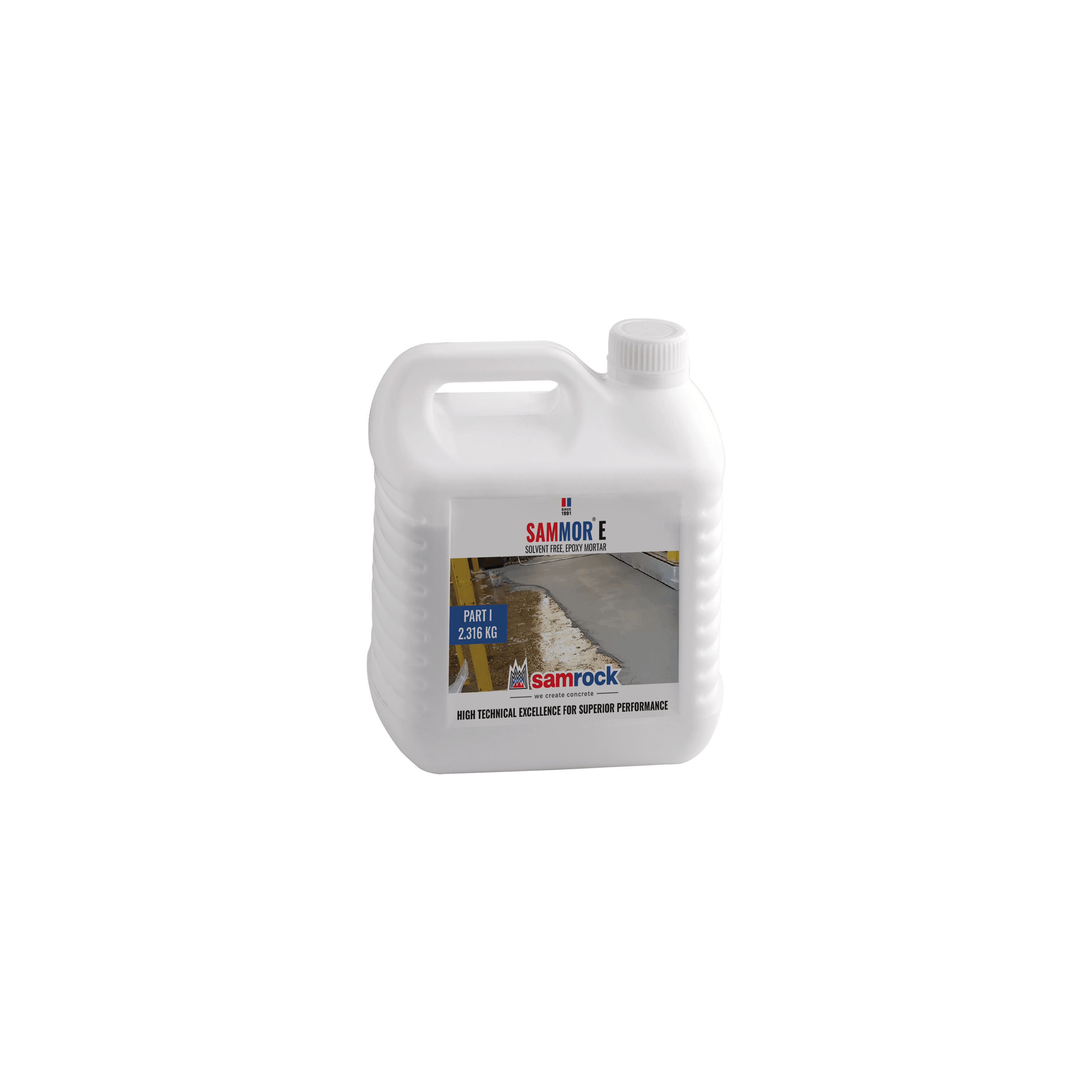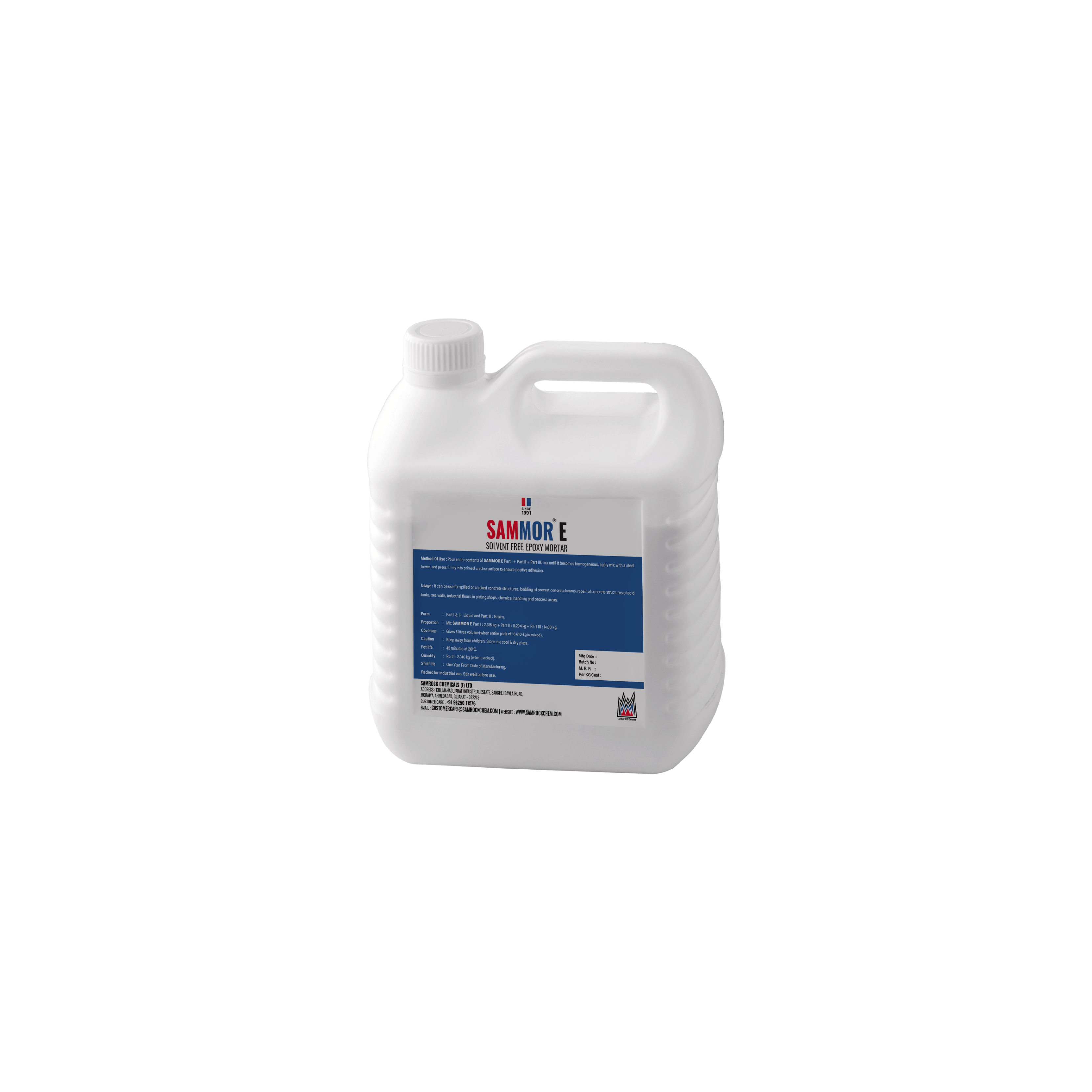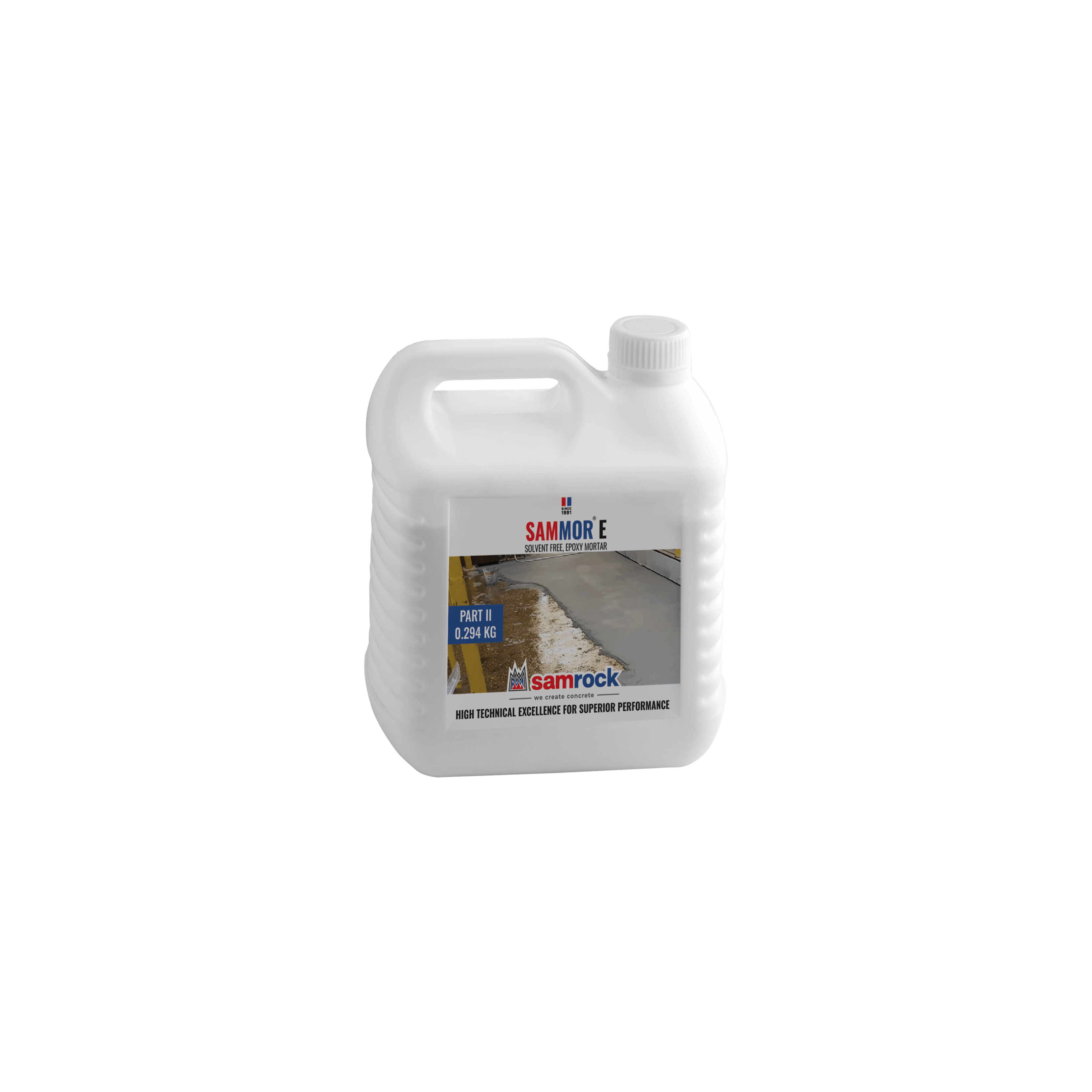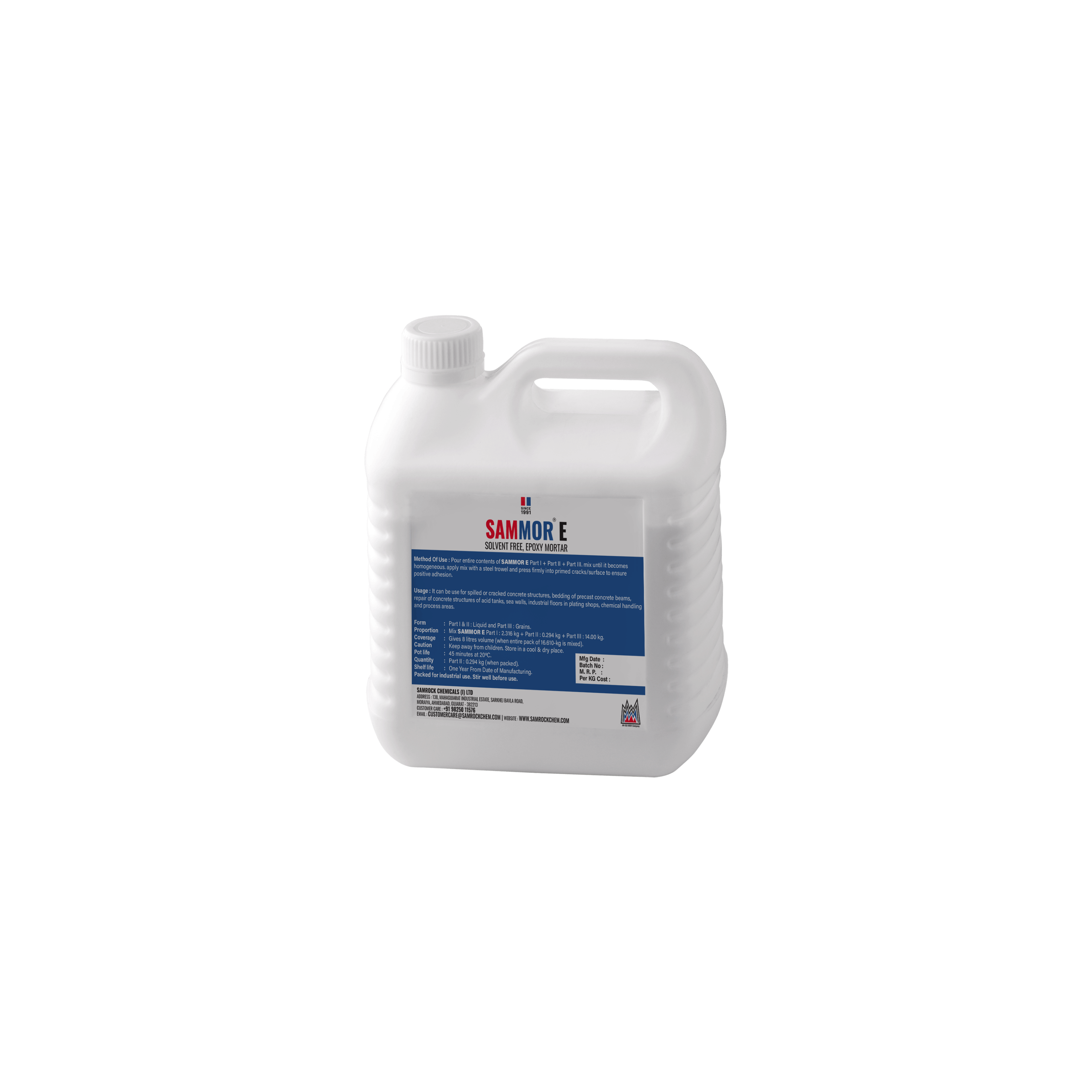 1_Jerrycan_Part I_2.316 Kg_Front-resized
2_Jerrycan_Part I_2.316 Kg_Back-resized
3_Jerrycan_Part II_0.294 Kg_Front-resized
3_Jerrycan_Part II_0.294 Kg_Back-resized
Structural Repair Product
SAMMOR® E is a blend of silica aggregates bonded together with epoxy-resin and designed for speedy and permanent repair to concrete.
Packing
16.610 kg (Part I: 2.316 kg + Part II: 0.294 kg + Part III: 14.0 kg)
Form
Parts I: Liquid,
Parts II: Liquid,
Part III: Grains
Base
Epoxy-resin
Color
Brown
Safety
Wear goggles and gloves, Inflammable
• To produce a trowelable mortar, mix entire quantity of SAMMOR®

E

.
• Apply the prepared mix with a steel trowel and press firmly into primed cracks / surface to ensure positive adhesion.
• Ensures early initial hardness and minimises maintenance disruption.
• Provides resistance to a wide range of acids, alkalis and industrial chemicals.
• Excellent resistance to abrasion and gives 3 to 4 times stronger than typical concrete.
• Cured surface is impermeable to water.
• Spilled or cracked concrete structures
• Bedding of pre-cast concrete beams
• Repair of concrete structures of acid tanks, sea walls, industrial floors in plating shops, chemical
handling and process areas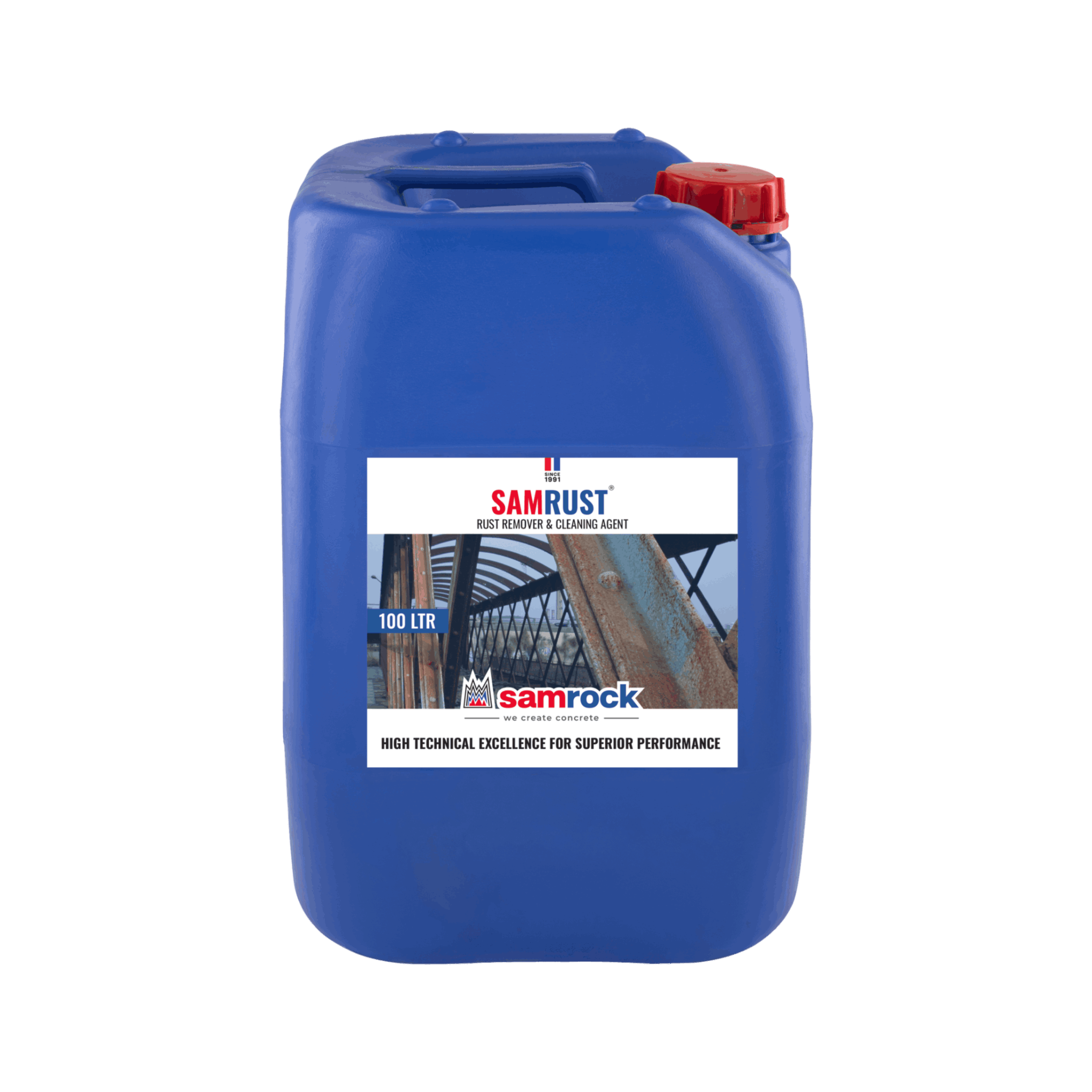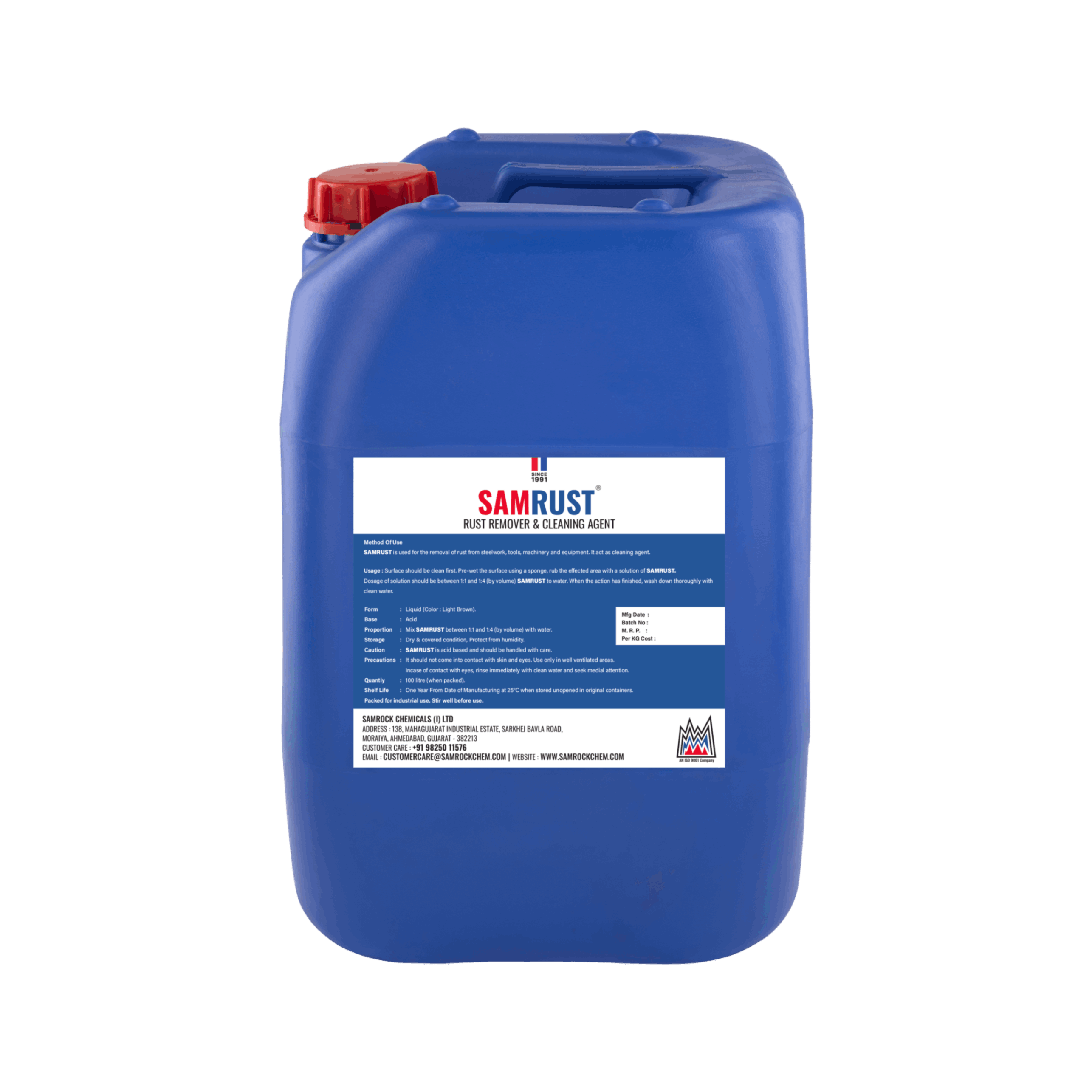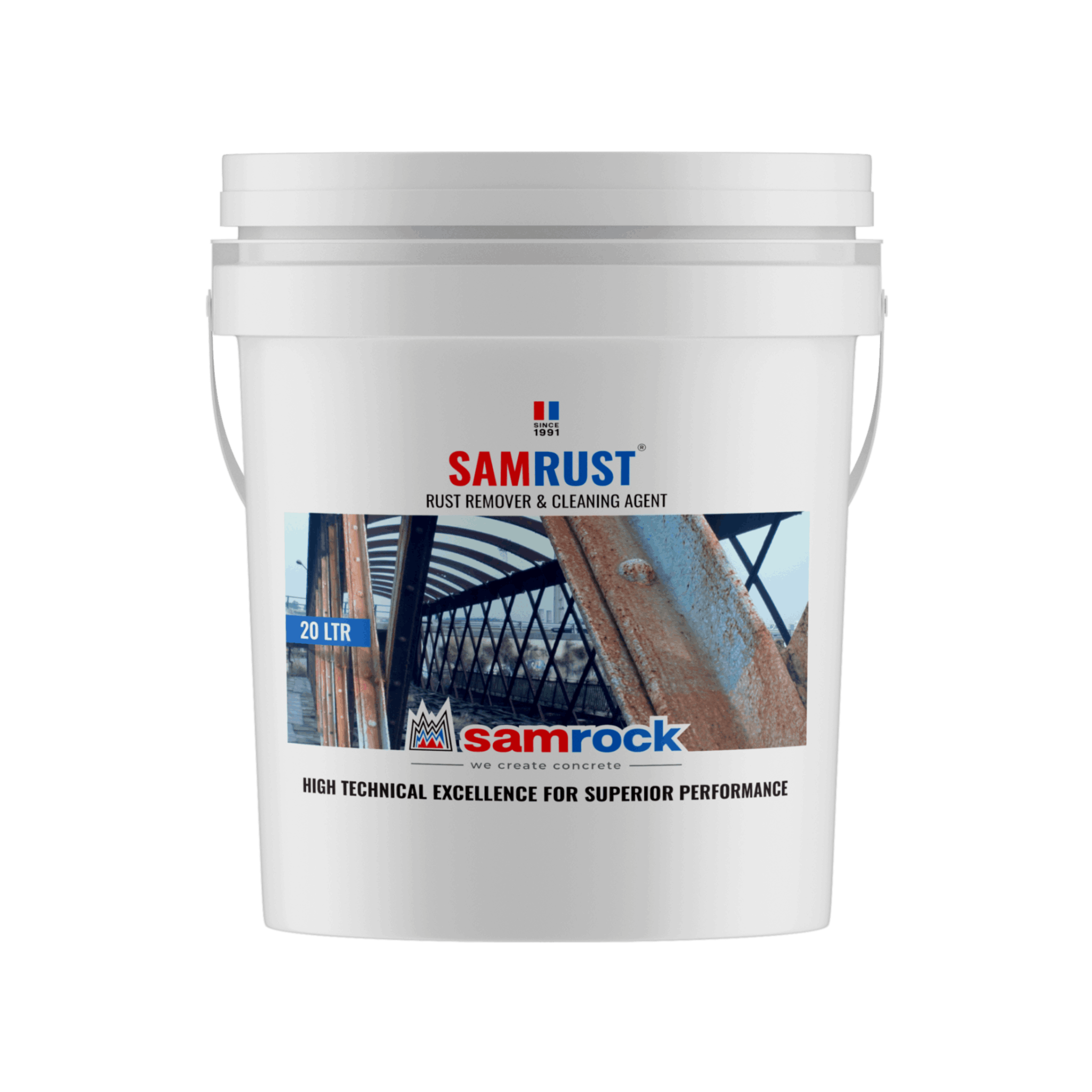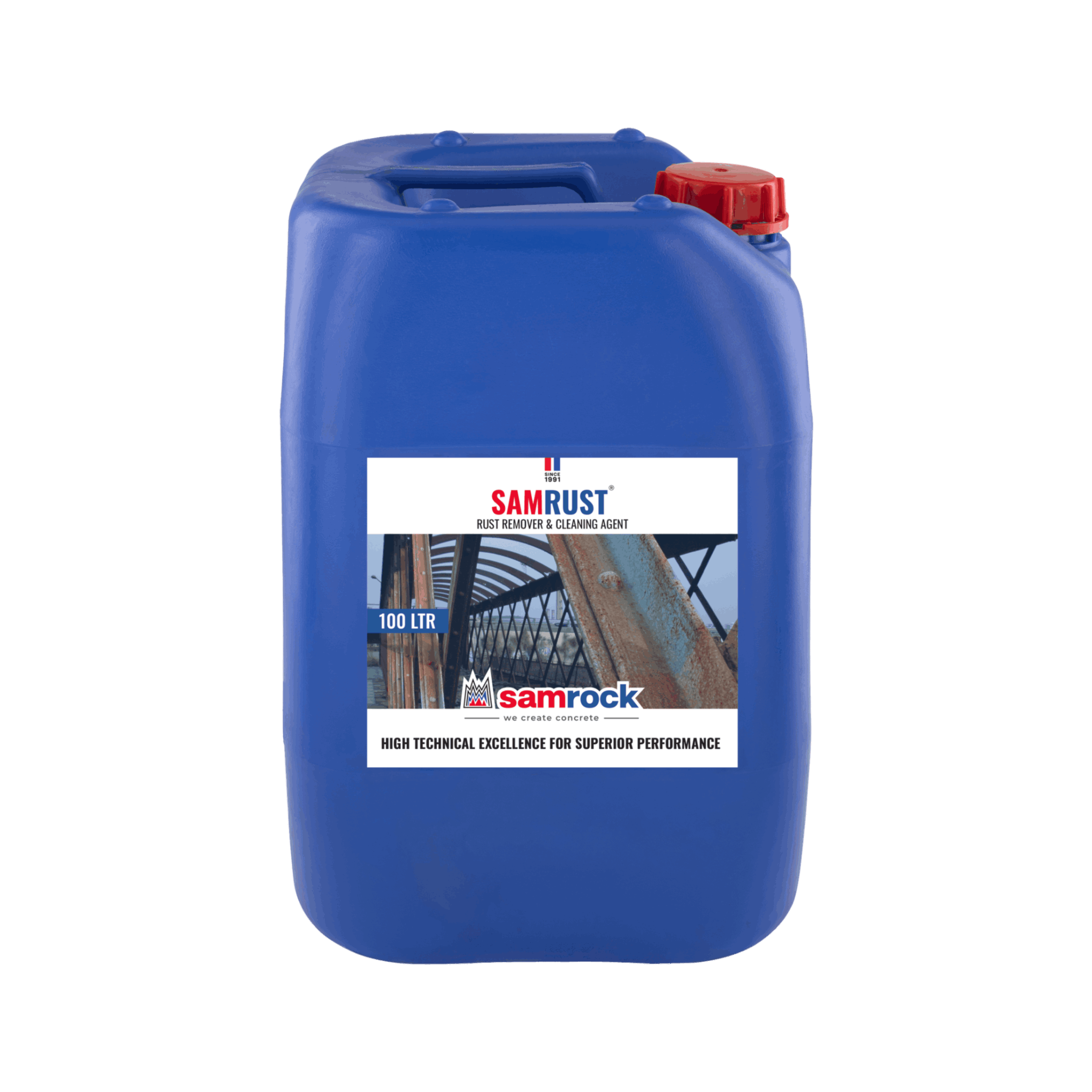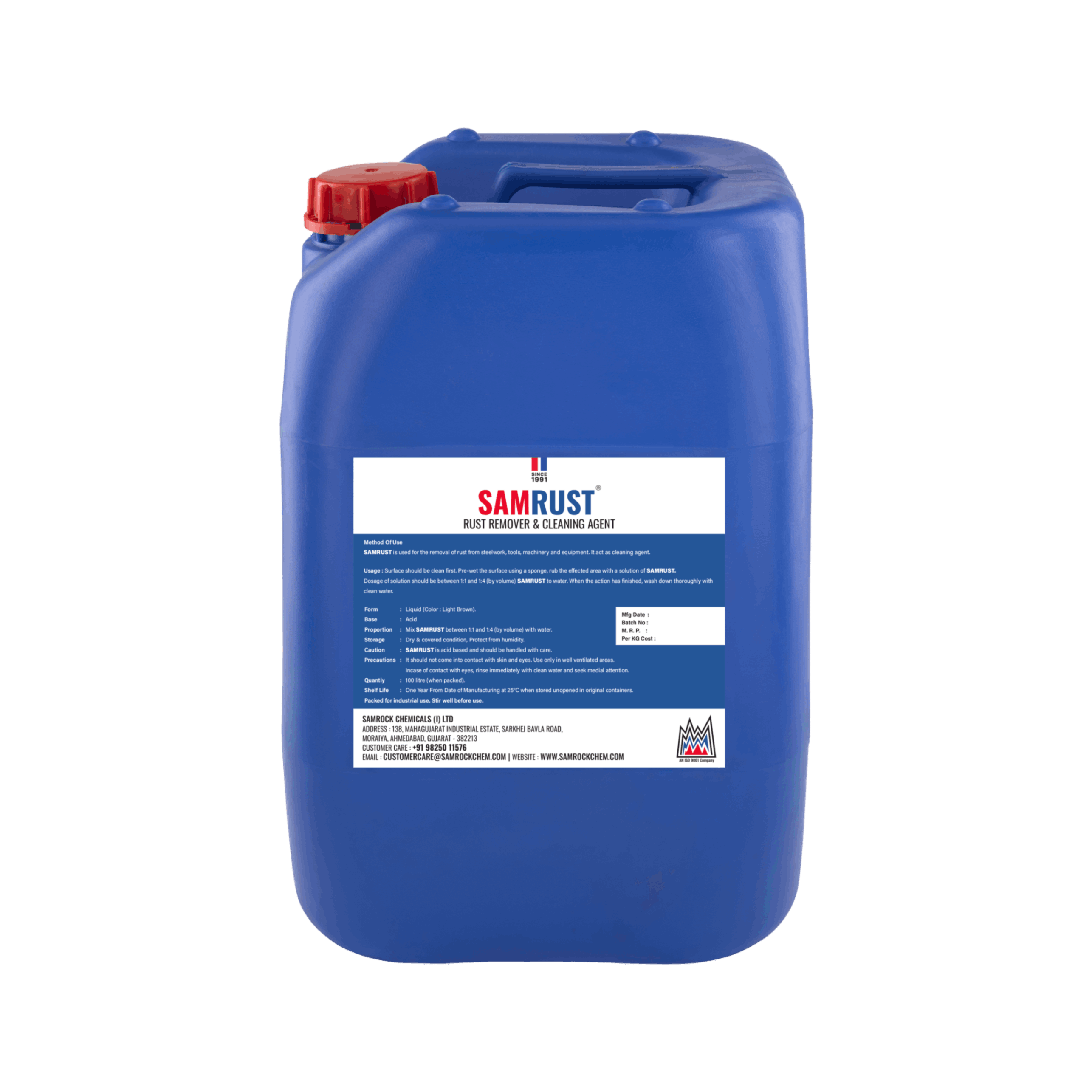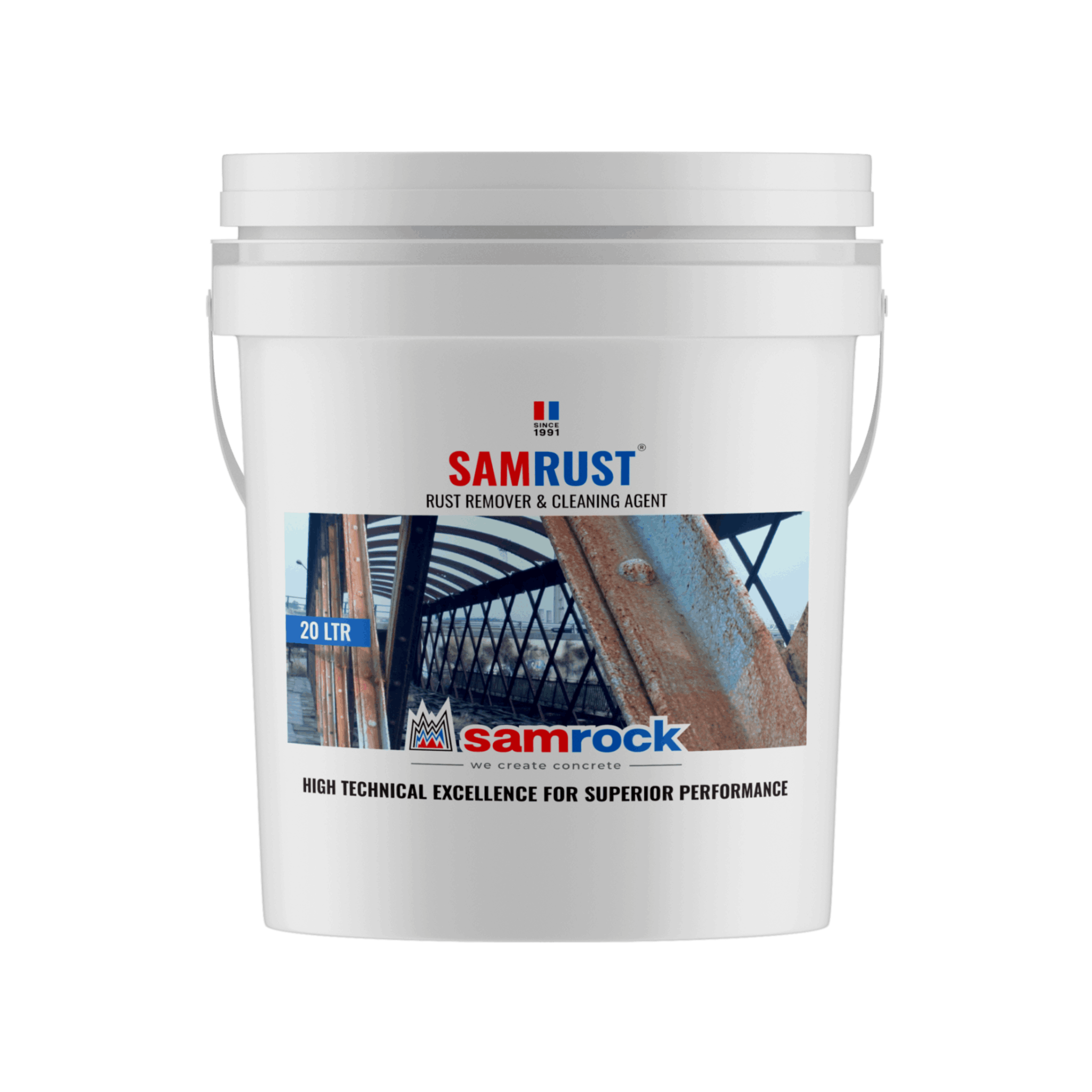 3_BIG Blue Jerrycan_100 LTR_Front-resized
3_BIG Blue Jerrycan_100 LTR_Back-resized
01 SAMRUST_Bucket_Front-resized
02 SAMRUST_Bucket_Back-resized
Structural Repair Product
SAMRUST is used for the removal of rust and mill-scale from steelwork, tools, machinery and equipment. SAMRUST is a cleaning and etching agent. It is a combination of acid-based material.
Packing
20-litre carboy , 100-litre drum
Form
Liquid 
Base
Acid
Color
Light brown
Safety
Non-toxic & non-flammable. Use gloves, goggles.
• A small trial area should be cleaned first. Pre-wet the surface, using a sponge, rub the affected areas
with a solution of SAMRUST.
• Strength of the solution required will vary but should be between 1:1 and 1:4 (by volume) SAMRUST to water. When the action has finished, wash down thoroughly with clean water.
• Helps to remove rust rapidly.
• Acts as cleaning agent.
• Spilled or cracked concrete structures
• Bedding of pre-cast concrete beams
• Repair of concrete structures of acid tanks, sea walls, industrial floors in plating shops, chemical
handling and process areas