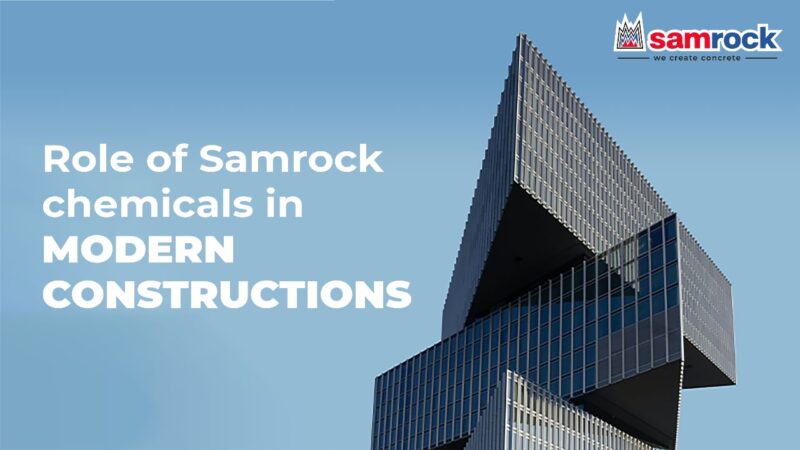 Construction is one of the most important industries in the world, shaping our built environment and shaping our cities. However, the construction industry has evolved significantly over the years, and it's no longer just about laying bricks and mixing mortar. Today's construction projects are highly complex, and they require a range of specialised products and solutions to ensure their success. This is where Samrock Chemicals comes in – as one of the leading providers of construction chemicals in the world, we play a vital role in modern construction.
Construction Chemicals – The key to modern constructions
Construction chemicals are specialised products that are used to enhance the durability and longevity of buildings and structures. They are an essential component of modern construction projects, providing a range of benefits, including improved strength, water resistance, and versatility. At Samrock Chemicals, we offer a wide range of construction chemicals, including adhesives, grouts, sealants, waterproofing products, and more. Each of these products is designed to serve a specific purpose, and our team of experts can help you choose the right solution for your project.
Chemical solution for construction industry
The construction industry is highly competitive, and every project is under pressure to deliver results on time and within budget. This is why construction chemical solutions are so important – they can help you save time, reduce costs, and improve the quality of your project. At Samrock Chemicals, we understand the needs of the construction industry, and we have designed our chemical solutions to meet these needs. Our products are easy to use, high-quality, and cost-effective, providing you with the best value for your investment.
Why choose Samrock Chemicals for your construction project?
At Samrock Chemicals, we are committed to providing the highest quality construction chemicals, and we take pride in our customer service. Our team of experts is always available to answer any questions you may have and provide you with expert advice on construction chemical solutions. Our products are tested and approved by independent organisations, ensuring that they meet the highest quality and performance standards. Moreover, our chemical solutions are designed to provide a long-lasting bond, ensuring that your structures stay in place for years to come.
In conclusion, Samrock Chemicals plays a vital role in modern construction, providing the construction industry with the chemical solutions it needs to deliver high-quality, cost-effective, and time-efficient projects. Whether you are a contractor, a DIY enthusiast, or just planning to refurbish your home, we have the right construction chemicals for you. Contact us today to learn more about how we can help you with your next project!
February 16, 2023
Categories: